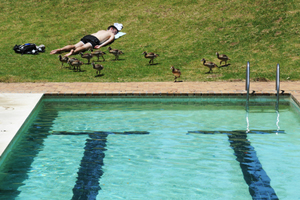 Calm after the storm:
A student, oblivious to the arrival of a curious family of ducks, relaxes in the sun at the UCT swimming pool on lower campus after the stress of final exams. While December marks the month of graduation for some, the start of the summer vacation for others and a long trip home to those from faraway places, November is notorious for being the month of exam-related anxiety. An Australian researcher who focused on university students said recently that the world over, a moderate amount of stress is healthy and keeps students 'motivated and alert', whereas excessive amounts of it affect students' mental health.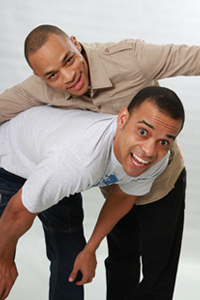 Trainspotters:
TV personalities Maurice Paige (top) and Theodore Jantjies take to the stage in Platform 9, currently on at the Baxter Golden Arrow Studio.
Written and directed by award-winning director Christo Davids, the funny two-hander, performed in Afrikaans and some English, has played to sold-out houses throughout the country. The story takes place on Cape Town station's Platform 9, where two friends – both headed for Johannesburg – find themselves stranded after a missed connection. Theo is a chef, and Mau, a budding hip-hop artist. But are the two travellers who they say they are? The show runs until 25 January 2014. Booking is through Computicket.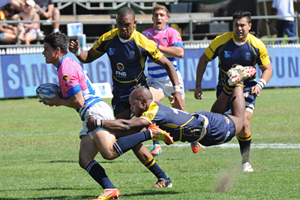 Fight and flight:
UCT's Joshua Jacobson is hunted down by UWC players at the Varsity Sevens competition that took place at Camps Bay at the end of November.
The tournament saw 10 university teams doing battle in rugby and volleyball during a weekend of gale-force winds which caused havoc with spectators and players alike. At the final whistle the scoreboard read UWC: 28 and UCT: 19. The Maties team ended up the rugby victors, with the Ikeys trailing in seventh place. UCT's volleyball team did slightly better, coming fifth, with UWC taking home top honours. The respective champions were crowned on the Sunday evening after the tournament.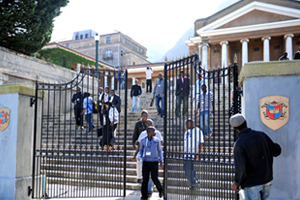 The doors of learning:
Bemused students walk through a newly-erected set of gates at the bottom of the Jammie steps on upper campus in late November.
Despite appearances, this is not a new security measure implemented by Properties and Services to keep students safe. Neither is it a way of ensuring that students do not flee to Main Road for junk food when they should be wandering the halls of academia. It is, instead, an authentic-looking set of props erected by Film Afrika during their recent shoot for a children's television show. But it did raise some eyebrows, as for many, the iconic steps are the heart of the University, and are not to be tampered with!
---
This work is licensed under a Creative Commons Attribution-NoDerivatives 4.0 International License.
Please view the republishing articles page for more information.
---