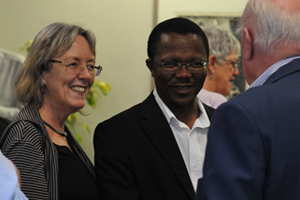 Adieu: Retiring Dean of the Faculty of Humanities Prof Paula Ensor, flanked by in-coming dean Prof Sakhela Buhlungu, greets former Vice-Chancellor Dr Stuart Saunders at her farewell function.
When the Dean of Humanities post was advertised at UCT some 10 years ago, Paula Ensor was deeply ambivalent about applying. But in the end she decided to do so, as morale in the faculty was low and the faculty had been through "torrid times" since its formation in 1999.
A professor in the faculty's School of Education at the time, Ensor had subsequently not only steadied the ship, but restructured and reinvigorated the faculty, Vice-Chancellor Dr Max Price said at her farewell on 19 November.
"I thought Humanities was, and is, a space worth protecting and extending," Ensor said of her decision to throw her hat into the ring in late 2003.
Fast forward a decade. Ensor will retire at the end of 2013 and plans a year-long sabbatical before returning to life as an academic.
Paying tribute to her "astonishing energy and hard work", Price said Ensor had chalked up many successes at the helm of UCT's largest faculty.
Among these is the Gordon Institute for Performing and Creative Arts (GIPCA), formed in 2008 with a substantial grant from the Donald Gordon Foundation to harness collaborative, cross-disciplinary work in music, fine art, drama, creative writing, and film and media. Supported by GIPCA and Cape Town Opera, the faculty premiered the 5:20 Opera series, five twenty-minute chamber operas, with the scores and libretti created by South Africans.
In 2010 the Institute for Humanities in Africa (HUMA) was established and in 2012 the new School of African and Gender Studies, Anthropology and Linguistics (AXL) was launched. AXL is the product of a merger between the African Gender Institute, the Centre for African Studies, the Department of Social Anthropology and the Linguistics section. The process required extensive consultation and negotiation ― under the intense glare of the media. This proved a particularly testing time for Ensor's leadership.
"Creating AXL was not easy, but I regard it '" for all its challenges '" as a very significant accomplishment," Ensor said. "I owe much to my deputy deans, heads of department and others in the faculty for their support in navigating this process."
Price believes it is no coincidence that 11 Distinguished Teacher Awardees were selected from the faculty during her time as dean, saying this underlined the kind of support she gave to individuals.
"Paula was the longest-serving of the deans I worked with, and the dean I learnt the most from. I will miss her guidance and support and her frequent insights and contribution to the leadership team."
Few know that Ensor started out as an economist (she has an honours degree in economics from UCT), which gave her a "sharp eye for figures and for policy", Price said.
"Robust and direct, her dealings with people were infused with integrity," he added.
Sharing an anecdote, Registrar Hugh Amoore said that when Ensor had gone into exile in the 1970s she'd been unable to share her plans with her employer, Dixie Strong, then a stockbroker and now chair of UCT's Baxter Theatre Centre Board. So she had left a detailed note under her typewriter cover, meticulously listing tasks she'd completed and what was needed to be completed by others.
Ensor will now focus on research and teaching in the sociology of education, which was placed on the back-burner during her time as dean.
But first is that well-earned sabbatical.
"I'm looking forward to reading books from beginning to end, without major interruptions," she quipped.
"I've selected a few MOOCS and I'm going to learn to tango!"
Story by Helen Swingler. Image by Raymond Botha.
---
This work is licensed under a Creative Commons Attribution-NoDerivatives 4.0 International License.
Please view the republishing articles page for more information.
---