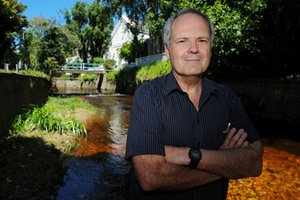 Water champion: Assoc Prof Neil Armitage in Newlands at the Albion Springs section of the Liesbeeck River, a vital link in the management of the city's stormwater system.
It started with Associate Professor Neil Armitage, head of civil engineering, looking for help to get to the root of the litter problem in Cape Town's rivers and storm water systems. Today the Urban Water Management (UWM) research unit combines the expertise of six departments across three UCT faculties, aiming to find integrated and sustainable solutions to water management (water supply, sewerage and stormwater management) in urban settings.
Armitage's efforts in establishing this recently accredited unit were rewarded by the Water Research Commission (WRC) when he won its 2013 research award in the category of human capital development in water and science.
Human capital development has three components in the WRC system, namely: individual, institutional and community. According to Armitage UWM has achieved in all three areas; providing training for postgraduate students, assisting officials working for its public sector partners, like the City of Cape Town, with service and delivery, and of course, the ultimate beneficiaries, the communities receiving the services.
The unit grew organically from Armitage's first collaboration with anthropologist Owen Sichone 12 years ago. Today the departments involved include Architecture, Planning & Geomatics, Civil Engineering, Construction Economics & Management, Environmental & Geographical Science, Political Studies and the School of African & Gender Studies, Anthropology and Linguistics.
About the award from the WRC Armitage commented, "I've had the feeling of being invisible for a long time. I'm quite well known outside of UCT, not so inside the university. We're impacting the lives of a lot of people outside academia. When one gets an award like this, for a moment in time, it makes you look like you're actually doing something. It's nice to be recognised like that."
The UWM was recently at the forefront of UCT's application for a National Research Foundation's Centre of Excellence in Water Sensitive Settlements. At a time when inter/trans-disciplinary research is becoming very popular, it has one of the most diverse groups of academics on campus.
Story by Abigail Calata. Image by Michael Hammond.
---
This work is licensed under a Creative Commons Attribution-NoDerivatives 4.0 International License.
Please view the republishing articles page for more information.
---