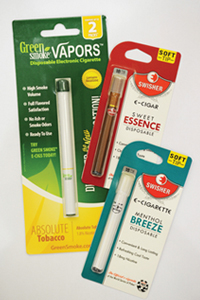 Electronic cigarettes may be new on the market, and expensive (unless you're buying a Chinese knock-off), but they've plugged a gap for many smokers wanting to quit, particularly in the wake of government's tougher anti-smoking measures.
E-cigarettes are battery-powered devices that resemble cigarettes and vaporise nicotine for inhalation. They're outstripping nicotine replacement therapies such as patches and gum, and may be more effective than traditional smoking cessation medications, say some clinicians.
But do the potential benefits of e-cigarettes outweigh the risks?
UCT's Dr Brian Allwood believes they do – when used to stop smoking, and not as an alternative to cigarettes. In an editorial in the November edition of the South African Medical Journal, Allwood says that evidence and education are of little help to nicotine addicts.
"The cigarette's combination of chemical and psychological addiction overwhelms common sense; in smoking cessation trials, where only highly motivated patients are enrolled, sustained quit rates rarely exceed 25%. We need more strings to our bow, if we hope to win this battle." The main concern is safety. Components of the refill fluid are nicotine, the vaporising propellant (propylene glycol or vegetable glycerine), and chemicals used as flavourants.
"They do not produce smoke but a vapour that is inhaled; and the common adverse side effects of e-cigarettes (cough, mouth irritation and headache) are mild, and appear to decrease over time."
Allwood reports that the nicotine component of e-cigarettes is thought to be safe, as it has not been shown to cause cancer, cardiovascular disease or lung damage – neither has it been shown to be cytotoxic to stem cells.
There's also less danger of passive smoking (which Allwood says could potentially reduce the 600 000 annual deaths associated with passive smoking), and of the weight gain associated with cessation.
"But the real benefit for those who convert is being spared the exposure to the over 8 000 chemicals (including carcinogens) found in cigarette smoke."
Importantly, the device addresses the ritual or psychological aspects of smoking.
"It remains the only currently available therapy that addresses both the physical and psychological components of tobacco addiction simultaneously – assisting smokers to both quit and cut down," Allwood adds.
First prize is never to start; and here, Allwood is emphatic about campaigns to prevent teens from lighting up. A report in the August issue of The Lancet says that although ex-smokers have lower risks than smokers, they have higher risks than never-smokers, particularly of lung cancer.
Others are less bullish about e-cigarettes. A report in the September edition of The Lancet by researchers from the Universities of Auckland and Otago in New Zealand, and Queen Mary University of London, says the role of e-cigarettes in tobacco control is still controversial, despite their "modest" effectiveness in helping smokers to quit.
"Uncertainty exists about the place of e-cigarettes in tobacco control, and more research is urgently needed to clearly establish their overall benefits and harms at both individual and population levels," said UCT's Dr Richard van Zyl-Smit.
That tobacco companies are involved in the manufacture and promotion of e-cigarettes seems particularly cynical, he says.
Story by Helen Swingler. Image by Michael Hammond.
---
This work is licensed under a Creative Commons Attribution-NoDerivatives 4.0 International License.
Please view the republishing articles page for more information.
---