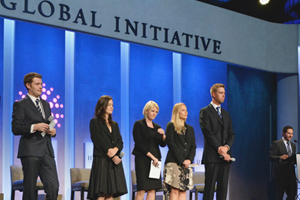 Seed venture:Greg McFarlane (far left) and Dianna Moore (second from the right) from UCT's Graduate School of Business were part of the team competing for the $1 million Hult Prize in New York last month. Together with Claire Reid (centre), Emily Jones (second from left) and Sean Blanckenberg (far right) they formed the Reel Gardening-GSB team that presented their plan to ensure food security worldwide to a panel that included former US president Bill Clinton. The team beat 50 other teams to win the regional round of the competition and become one of the six finalist teams. Reel Gardening produces a basic seed package, which is convenient for germination and reduces the amount of water during germination.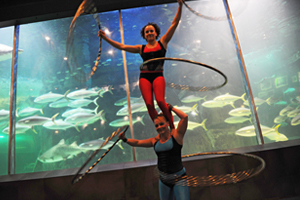 Hoopla!
SHAWCO's 70th anniversary culminated with a glittering reception at the Two Oceans Aquarium featuring entertainment from the Silk Workshop's Nicky and Roxanne Slaverse. Distinguished guests, staff and students were addressed by Deputy Vice-Chancellor Professor Crain Soudien, chair of the SHAWCO Board, and Faith Brown, SHAWCO director. The event drew to a close a series of celebrations that marked SHAWCO's birthday. From humble roots it grew into one of the world's largest student-run volunteer organisations, which has made an indelible impact on the health and education of communities in and around Cape Town.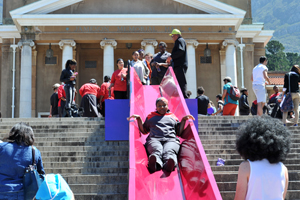 Stairmasters:
Students got to enjoy a quick trip down Jammie steps recently as part of Stimorol's "See what unfolds" advertising campaign. The Stimorolicious Slide seemingly succeeded in turning Monday into Funday for UCT students, who for their enthusiastic participation were presented with a packet or two of bubblegum. The ride down the steps was reminiscent of the days when daring students participating in the annual RAG Olympics would toboggan down the Jammie stairs on a piece of cardboard with only bales of straw there to cushion their landing. This activity was banned after some students were injured while doing this.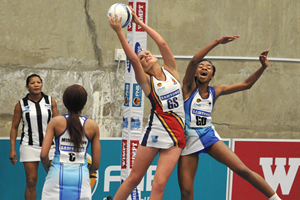 Defying gravity:
TUKS's Elouise Annandale keeps possession of the ball, while UCT's Fortuna Bagula is blocked mid-air during a recent Varsity Sport Netball series clash at the UCT Sports Centre. After racing to a 42-11 lead at half-time, the visiting team continued to dominate second period play, as they romped to a 68-28 victory. UCT supporters had something to cheer about at half-time when Springbok legend Chester Williams joined in the half-time shoot-out. At the time of going to press, UCT were due to play North West University at the Maties DF Malan Indoor Centre in Stellenbosch on October 20.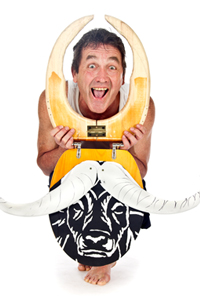 Seat of power:
South Africa's king of physical theatre, Andrew Buckland, has returned to the Baxter's Golden Arrow Studio with his new production, Laugh The Buffalo. The through-the-looking-glass plot sees the state deploy a secret agent to find the source of leaked classified information. The intrepid agent tracks down the whistle-blower to a silent retreat, but in order to protect his identity and unmask the informer, the agent has to participate in the rituals. Using Buckland's trademark physical theatre, the new show combines his characteristic – and often zany – humour to reflect on the human condition. The show ends its run on November 30.
---
This work is licensed under a Creative Commons Attribution-NoDerivatives 4.0 International License.
Please view the republishing articles page for more information.
---