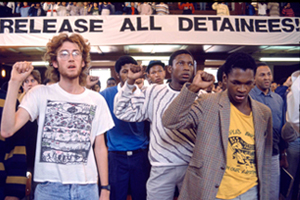 Flashback to student protests:
UCT students protest during apartheid in a picture by Adil Bradlow currently on show at the Good Hope Gallery. Images by Adil and fellow anti-apartheid photographers Benny Gool and Zubeida Vallie are on exhibition until 11 October. Curated by Siona O'Connell from the Centre for Curating the Archive, Martyrs, Saints and Sellouts features images of well-known activists and politicians, such as Trevor Manuel and Tokyo Sexwale, alongside thousands of other activists. Bradlow, who continues to focus his lens on hotspots, was recently released after being detained in Egypt while working for Al Jazeera.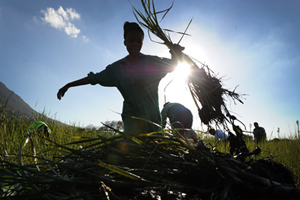 Wards of the weedy river:
UCT's Green Campus Initiative and Friends of the Liesbeeck roll up their sleeves to clear a section of the wetland along the Liesbeeck River in Mowbray, choked by Common Reed. Large areas of the neighbouring wetland in Mowbray are clogged by the invasive Common Reed, which grows rapidly in high-nutrient conditions and when water levels drop. Members of both societies banded together to help create a patchwork of habitat within the wetland, which will mean there are areas of open water, dense reeds and patches of less-dense reeds that will attract a wider diversity of animal species – particularly birds.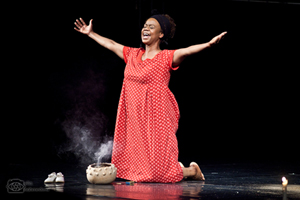 A Woman in Waiting:
Thembi Mtshali-Jones takes the audience on a colourful journey of her memories of a rural childhood through to the complicated life of domestic workers in an urban milieu. Described as a "biographical journey into the dark heart of what life was like for women in apartheid South Africa", A Woman in Waiting has won several international awards, including the Scotsman Fringe First at the Edinburgh Festival in 2000. The one-woman show, directed by Yael Farber, previews at the Baxter Golden Arrow Studio on 25 September and runs nightly at 20h15 until 12 October.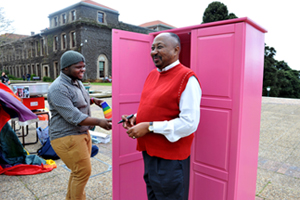 Opening doors:
Deputy Vice-Chancellor Professor Thandabantu Nhlapo officially marks the start of Pink Week by addressing students on Jammie Plaza. The pink closet – placed in a visible public space so that people can write messages of pride and support – has become a familiar sight at UCT during Pink Week, and is intended to raise awareness about homophobia. Organised by RainbowUCT, the week-long programme included panel discussions, debates and film screenings to promote awareness of lesbian, gay, bisexual, transgender, intersex and queer (LGBTIQ) rights.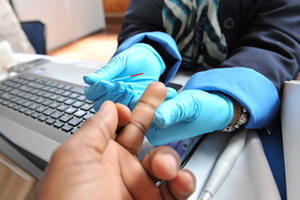 Fare well:
A student has their blood checked during the Wellness Fair in Jameson Hall. The fair was hosted for students and staff by the Organisational Health Section of the Human Resources Department earlier this month. Services included head and neck massages and fitness demonstrations, as well as screenings for blood pressure, cholesterol, diabetes, psychological distress, Body Mass Index (BMI) and HIV. The event is part of an ongoing effort to ensure that health services are readily available for the campus community, and that people take responsibility for their own well-being.
---
This work is licensed under a Creative Commons Attribution-NoDerivatives 4.0 International License.
Please view the republishing articles page for more information.
---