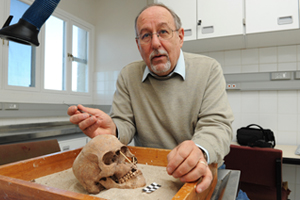 Message in the bones: Using bone fragments, Professor Alan Morris reconstructs the face of a woman in her late 20s, a prehistoric forager from the Later Stone Age.
A book about the stories told by human bones recovered in South Africa was recently awarded a prestigious international award.
Missing and Murdered: A Personal Adventure into Forensic Anthropology by UCT's Professor Alan Morris was awarded the 2013 WW Howells Book Prize by the biological anthropology section of the American Anthropological Association.
Morris' book relates his experience of forensic anthropology in South Africa. It is aimed at lay-persons with a penchant for murder mysteries and television shows like CSI. According to Morris the book not only contains his personal experiences, but more importantly it aims to open its audience's eyes to the "the science behind the fiction that they read (or watch)". "One of the things we are trying to counter is the 'CSI effect' - the belief that real science operates the same way we see on television. Sadly this is often not the case," he adds.
Morris' interest is in skeletal biology "and the stories bones tell about the original people". For him, forensic anthropology is distinct from other forms of forensic research, in that it uses the human skeleton as its knowledge base. "Forensic anthropology is all about understanding human variation, and the best subject to explore that is biological anthropology. It is a specialised form of forensic research that is different from chemistry (fires and drugs) and pathology (which requires a clinical medical degree)."
The bones Morris examines - and which are reported on in the book - include those from victims of political violence and muti murders.
"Books considered for the Howells Prize should represent the highest standard of scholarship and readability," says Sara Stinson, Chair of the Book Prize Committee. "They should inform a wider audience of the significance of physical or biological anthropology in the social and biological sciences."
Story by Abigail Calata
---
This work is licensed under a Creative Commons Attribution-NoDerivatives 4.0 International License.
Please view the republishing articles page for more information.
---