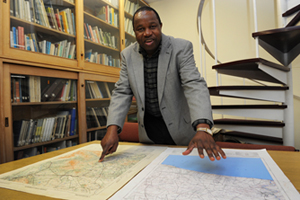 Special award: Assoc Prof Maano Ramutsindela has won a National Research Foundation Special Category Award for his work to transformation the country's science cohort.
UCT's Associate Professor Maano Ramutsindela of the Department of Environmental and Geographical Science has won a National Research Foundation (NRF) Special Category Award for Transformation of the Science Cohort.
It was one of three special awards announced by the NRF in Port Elizabeth on 27 August. These awards recognise "superlative work" by senior researchers in a broad range of fields.
Ramutsindela's category is focused on transforming the science cohort by attracting more black scientists to academia and helping them become leaders in their fields.
His own example more than illustrates the challenges many black South Africans face in entering the sciences.
Born to a poor Limpopo family of seven children, he started his schooling at age nine in a mud building. Using a camera, he raised money for his books and school fees and spent a year working as a full-time teacher assistant to raise his university fees.
Studying in apartheid conditions when his alma mater (University of the North) was under siege by the South African security forces, Ramutsindela nonetheless managed 11 subject distinctions and went on to complete his honours degree, going abroad to do his PhD at Royal Holloway College of the University of London on a Collins Canon Trust Scholarship.
At UCT he became one of the first group of social scientists to be awarded a NRF P-rating for young researchers (usually under 40) in 2002, the first black geographer to edit the South African Geographical Journal and the first African to be elected a Fellow of the Society of South African Geographers.
His work to transform the field has extended globally. As editorial board member for several leading journals, Ramutsindela is the representative of and voice for Africa on environmental and geographical matters.
His work has earned international recognition, including the Distinguished Hubert H Humphrey Visiting Chair at Macalester College in the US.
The event was attended by Deputy Vice-Chancellor Professor Danie Visser who lauded the UCT academic's achievement.
"These awards celebrate remarkable academics whose work has helped position UCT as an African hub of intellectual activity and researchers and role models like Associate Professor Ramutsindela are part of our platform for nurturing the next generation of academics," said Visser.
Ramutsindela said he was humbled by the award and thanked UCT for nominating him.
"An award of this nature refreshes memories of the road I have been travelling and also highlights the need for more effort towards creating conditions for students to realise their full potential at our universities."
Ramutsindela was among three UCT nominees for this year's special awards. Emeritus Professor Lionel Opie and Professor Peter Dunsby were nominees for the two other categories, NRF lifetime achievement award, and Champion of Research and Capacity Development at Higher Education Institutions in South Africa respectively.
The awards dinner also provided an opportunity for the NRF to honour the A- and P-rated researchers from the 2012 cycle. UCT currently has 416 NRF-rated researchers, including 33 A-ratings and six P-ratings.
Story by Helen Swingler. Photograph Michael Hammond.
---
This work is licensed under a Creative Commons Attribution-NoDerivatives 4.0 International License.
Please view the republishing articles page for more information.
---