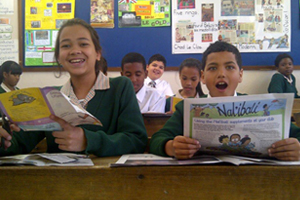 Letter by letter: Nal'ibali, which means Here's the story in isiXhosa, has made great strides in popularising reading for enjoyment as a way to promote literacy development in South Africa, as well as foster multilingualism.
Millions of children have been introduced to the joy of reading through the Nal'ibali campaign, which in the last year distributed close to 10 million supplements promoting reading for enjoyment and multilingual literacy.
Launched in June 2012, the campaign partners UCT's Project for the Study of Alternative Education in South Africa (PRAESA) with Times Media, and develops children's literacy through storytelling and reading. It does so by devising bilingual supplements which appear weekly in select Times Media newspapers. The material is published in three languages - English, isiXhosa and isiZulu - but plans are afoot to add Afrikaans and Sesotho to the list.
Nal'ibal, which means Here's the story in isiXhosa, developed thirty-seven supplement editions which were inserted in newspapers in Gauteng, the Eastern Cape, Western Cape and KwaZulu-Natal. These were also donated and delivered to schools, reading clubs and libraries in these provinces.
"In a world where being able to read and write effectively is so important, Nal'ibali helps to ensure that no child misses out on the magical pleasure that reading can give when provided in a language that they understand," comments Carole Bloch, PRAESA director.
"Times Media is committed to promoting literacy development in South Africa and through our advanced newspaper distribution systems we have been able to deliver supplements to areas where they are sorely needed," adds Patti McDonald, publisher of Times Media Education.
Recipients of these supplements, including teachers, describe them as "invaluable" and "prized possessions".
"The most inspiring has been the increased interaction between the children as they develop their love of stories together. It's beautiful to see the children's enthusiasm when reading together," says Monwabisi Sisilana, principal of Ikhwili Elementary School in the Eastern Cape.
In addition to the supplements, PRAESA also conducts reading-for-enjoyment workshops and equips communities with strategies to bring stories to life for children; start and run their own reading clubs as well as share songs, games and writing activities as further ways to promote literacy learning in children.
For more information visit Praesa, Nal'ibali or Nal'ibali mobisite.
---
This work is licensed under a Creative Commons Attribution-NoDerivatives 4.0 International License.
Please view the republishing articles page for more information.
---