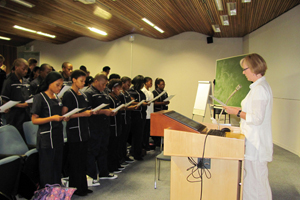 Second-year physiotherapy students recently took their professional oath prior to starting clinical practice. At the ceremony, officiated by the health sciences faculty's Professor Karen Barnes, Deputy Dean: Research (pictured above), the students formally pledged to uphold the strictest standards in the services they would be offering. Guest speaker Professor Steve Reid, the Director and Glaxo-Wellcome Chair of Primary Health Care, entertained students with anecdotes from his experiences as a healthcare practitioner in rural areas. On a more serious note, he emphasised the important role the physiotherapy students will be playing in the community - and later, in rural placements during their community service year.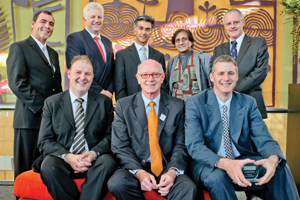 Professor Raj Ramesar (human genetics) is one of several academics from the Western Cape who have been invited to serve as ambassadors for the Cape Town International Convention Centre (CTICC). The ambassadors have either hosted large meetings or will host meetings in the future. "Quite importantly, though, what we have realised is that part of the mission of UCT to elevate its international standing is to ensure that we attract top academics from as many fields as possible to our institution and to Cape Town and South Africa generally," said Ramesar (second from right, back).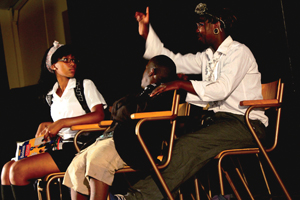 Now in its third year, the Zabalaza Theatre festival programme has expanded to include poetry, hip-hop, musical theatre and opera for the first time. Over 30 productions featuring 200 artists will be showcased in its three-week run this month. The festival provides a developmental platform for theatre and other art forms from the Western Cape, Johannesburg, Durban and Pretoria. It will end with an awards ceremony on Saturday 23 March. Pictured above are cast members from the group Stars of Tomorrow Street Kids. (Photo by Elelwani Netshifhire.)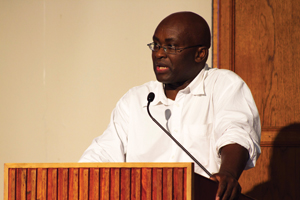 Cameroon-born philosopher, academic and social theorist Professor Achille Mbembe delivered a public keynote address at the Hiddingh campus, part of the Between the Lines symposium held at the Gordon Institute for Performing and Creative Arts (GIPCA) at Hiddingh Hall. Mbembe used the opportunity to discuss the idea of translation as a metaphor to understand how we confront 'the other' and move beyond racism towards a more humane society. Between the Lines invited 10 artists and 30 art students to reflect on innovative artistic research that engages with translation and mediation across social and cultural differences. It is a joint project of the Hochschule für Bildende Künste, Braunschweig, Germany, and UCT's Michaelis School of Fine Art. (Photograph Lorna Daniel, image courtesy GIPCA.)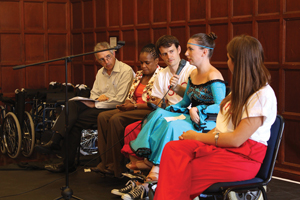 To mark International Wheelchair Day in March, the Students' Representative Council (SRC) hosted an event to "promote awareness and inspire people to take action", according to its president, Lorne Hallendorff. Guest speaker, Manthipi Molamo-Rathloa, director of services to people with disabilities for the national Department of Social Development, urged "See me. Don't see my wheelchair".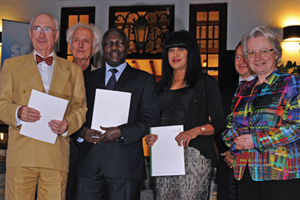 In February, Emeritus Professor Cesareo Dominguez (left in picture), whose research spans elementary particle/high-energy physics, received the inaugural Humboldt Research Award at the German Embassy. It was presented by the German Minister of Science, Professor Annette Schavan (far right). The award was established by the German-based Alexander von Humboldt Foundation (AHF) in memory of UCT scholar and AHF fellow Dr Neville Alexander. Dominguez, an emeritus professor of theoretical physics, was named winner alongside psychologist Professor Soraya Seedat of Stellenbosch University and toxicologist Dr Joseph Owuor Lalah of Kenya. The winners will conduct research in Germany, fostering collaborations with German academics.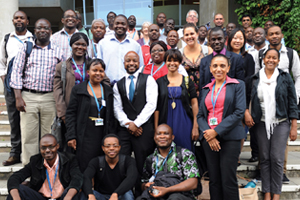 Thirty young researchers from 16 African countries, and a number of UCT's students, attended the recent Summer School organised by the Centre for Social Science Research (CSSR) and the Afrobarometer network. The latter is a continent-wide study of public opinion on political issues. The network has run summer schools for young researchers involved in data collection in different countries in the past, while the CSSR has also run short courses for government, NGOs and young researchers. "This year, we combined the two into what we hope will become a regular, institutionalised forum for building social science research among young African researchers," said the CSSR's Professor Jeremy Seekings. The school is funded in part by the Vice-Chancellor's Strategic Fund.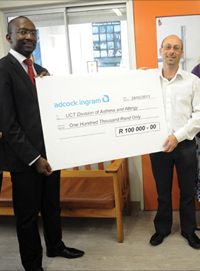 Thanks to funding worth R100 000 from Adcock Ingram, three nurses at UCT will be able to complete their Professional Certificate in Allergy Nursing, furthering nurse training and education at the university. Photographed at the cheque handover were Dr Abofele Khoele (executive for drug management development at Adcock Ingram) and Associate Professor Mike Levin of the Red Cross War Memorial Children's Hospital.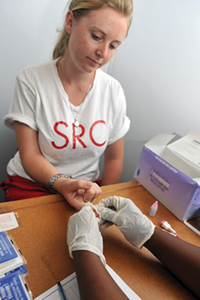 UCT students did their bit to halt the spread of HIV/AIDS by filling Jameson hall in late February to test their HIV status, part of the annual First Things First HIV Testing and Counselling (HTC) campaign. HIV testing, counselling, treatment and support are all important components of the UCT HIV/AIDS response, says Stella Kyobula-Mukoza, project officer at UCT's HIV/AIDS Institutional Co-ordination Unit (HAICU). The National Tertiary Testing campaign is a collaboration between the national Department of Health, Higher Education HIV/AIDS (HEAIDS), the South African National AIDS Council, and 23 tertiary institutions around the country. One of the first up for testing was Emily Bates (in picture), Students' Representative Council health, safety and environment co-ordinator.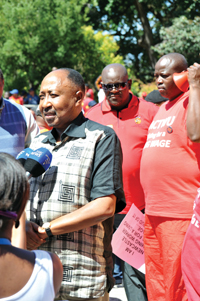 Two hundred members of the South African Clothing and Textile Workers' Union marched to Bremner Building on 1 March to protest the recommendations of Professors Nicoli Nattrass and Jeremy Seekings of UCT's Centre for Social Science Research. The duo recently published a working paper titled: Job Destruction in the South African Clothing Industry: How an alliance of organised labour, the state and some firms is undermining labour-intensive growth. Nattrass and Seekings had argued that forcing clothing companies to comply with the minimum wage of R369 per week threatened "thousands" of jobs. Deputy vice-chancellor Professor Thandabantu Nhlapo (in picture) accepted a memorandum from the union. Nattrass and Seekings responded to SACTWU on the CSSR website.
---
This work is licensed under a Creative Commons Attribution-NoDerivatives 4.0 International License.
Please view the republishing articles page for more information.
---