The students filled Jameson hall from 26-28 February to have their HIV statuses tested as part of the annual First Things First HIV Testing and Counselling (HCT) campaign. HIV testing, counselling, treatment and support were all important components of the UCT HIV/AIDS response, says Stella Kyobula-Mukoza, project officer at UCT's HIV/AIDS Institutional Co-ordination Unit (HAICU).
The National Tertiary Testing campaign was borne of a collaboration between the national Department of Health, Higher Education HIV/AIDS (HEAIDS), the South African National AIDS Council, and 23 tertiary institutions around the country. It aims to test thousands of students for HIV and, refer treatment for those who need it and at the same time, address HIV-related stigma.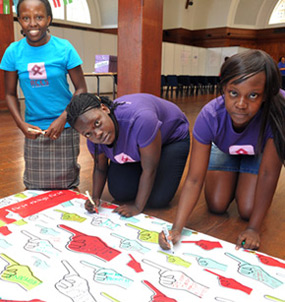 "It's important for students to take responsibility for their status and encourage other students to get tested and, as such, reduce the stigma around testing at UCT," says Kyobula-Mukoza.
Emily Bates, health, safety and environment co-ordinator for the Students' Representatives Council (SRC), joined her fellow student leaders in having their fingers pricked.
"It's important that we have campaigns like this because it is about making sure that the community is aware that it is okay to be tested, that they don't feel it is 'wrong' or embarrassing," says Bates. "The SRC wanted to lead by example and show the students that even the student leadership structures think it is an important step to take."
Students need not be afraid that testing positive for HIV necessarily means being imposed with a death sentence, adds Dr Corrine Landon, principal medical officer of the Student Wellness Centre. The Student Wellness Centre co-ordinates the drive in partnership with the TB Care Association and collaborate with HAICU on communication aspects of the drive.
"We manage it like any other chronic condition," assures Landon. "We want them to know their status, keep their status negative and practice safer sex."
Bates, Kyobula-Mukoza and Landon all encouraged students to make full use of the university's support systems regarding the testing, counselling and treatment (if necessary) processes.
---
This work is licensed under a Creative Commons Attribution-NoDerivatives 4.0 International License.
Please view the republishing articles page for more information.
---