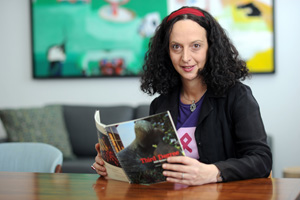 Thought leaders: UCT's Cal Volks has edited a special issue of the AIDS Review series, focusing on the role the higher education can play in the fight against HIV and AIDS.
A special issue of the widely known AIDS Review series is taking a long, hard look at the role that higher education, and its HIV and AIDS programmes, can play in combating the pandemic.
Launched at the Researching the Applied and Applying the Research conference, hosted by the Higher Education HIV/AIDS Programme (HEAIDS), a division of Higher Education South Africa, or HESA, at UCT from 28 to 30 November, the issue is titled Third Degree. It is edited by Cal Volks, director of UCT's HIV/AIDS Institutional Co-ordination Unit.
The responses by higher education to HIV and AIDS are significant because of the role such institutions play in creating and disseminating knowledge, and because of their contribution to developing the country's human resources, says Volks.
While many broad policy frameworks have been in place at institutions for a few years, in some cases not enough implementation is occurring, she notes.
"More of a specific focus may be required around determining the institutional barriers to higher education HIV/AIDS policy implementation," she added.
AIDS Review is produced by the Centre for the Study of AIDS (CAS) at the University of Pretoria, and is edited by CAS director, Mary Crewe. Volks quotes Crewe when she says their motivation for bringing out the special edition was to encourage higher education's responses to HIV and AIDS to be "challenging, critical, controversial, and informed".
The edition also has contributions from Professor Relebohile Moletsane of the University of KwaZulu-Natal(his article grew out of a presentation he made at the HAICU 2011 Narratives and Nostalgia in HIV and AIDS and Transformation Education Colloquium on the role of culture and cultural nostalgia in HIV/AIDS peer education) and from Professor Sylvia Tamale of Makerere University. The University of Pretoria's Pierre Brouard also contributed a thought-provoking piece about how institutional integrity can influence responses to HIV and AIDS.
---
This work is licensed under a Creative Commons Attribution-NoDerivatives 4.0 International License.
Please view the republishing articles page for more information.
---