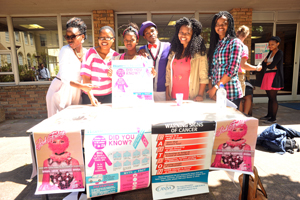 The burst of pink on health sciences staff and students each Friday in October is an initiative by the Health Sciences Student Council (HSSC) to create awareness around Breast Cancer Awareness Month. According to campaign organiser Noetste Lerotholi they were capitalising on people's fear of missing out (FOMO) to wear pink and in this way promote awareness of breast cancer during the month of October.
Influential businessman Cyril Ramaphosa delivered the keynote address at UCT's South African Actuaries Development Programme (SAADP) year-end function earlier this month. Ramaphosa, seen here with Nokwanda Mkhize, executive director of SAADP, invited students and alumni of SAADP to help craft a vision for South Africa for 2030.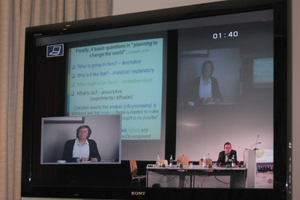 UCT's Graduate School of Business recently served as one of the virtual conference centres for the 2012 Berlin Conference on the Human Dimensions of Global Environmental Change. Dr Richard Hill of the Department of Environmental and Geographical Science, who organised the event at the GSB, calculated the cost for each of the 10 conference participants in Cape Town to be about one-twentieth of the cost of personal attendance at the conference.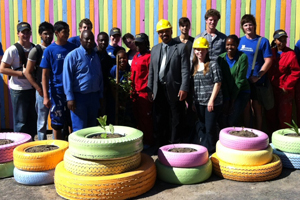 UCT construction studies students have raised R52, 800 for the Thembalethu School for children with special needs. As part of a mandatory course, first-year students spent some weeks during the second semester raising money for this Gugulethu school. The students also collected donations of equipment, materials, cement and paint from local industries.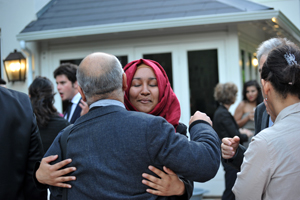 UCT's Students' Representative Council (SRC) 2011/2012 was rewarded for their year's hard work with a braai at the Vice-Chancellor's residence on 16 October. The outgoing student leaders, due to vacate their posts at the end of October, were thanked for their service to the university by VC Dr Max Price. He assured the students that their experiences in office would stand them in good stead throughout their careers.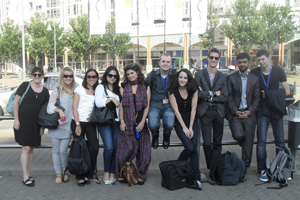 "Enriched on every level," is how UCT master's student Melani van der Merwe (fourth from right) describes the pay-off from her time at the 2012 Hague Symposium on Post-Conflict Transitions and International Justice, held in The Netherlands in July and August. Fifty-three students from around the world gathered at this leadership training initiative, offered through the International Peace and Security Institute.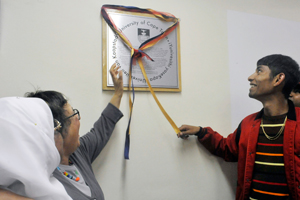 Conference room three in the Barnard Fuller building on UCT's medical school campus will from now on be known as the Aadil Moerat Room. The room will serve as a memorial to Moerat, a UCT graduate who became known as the 'people's doctor' in Gugulethu, before his untimely death in 1998. Dean Prof Marian Jacobs - together with Moerat's mother, Makia Moerat, and his two sons, Danyal (right) and Jaraad (not in picture) - unveiled the plaque bestowing his name on the room.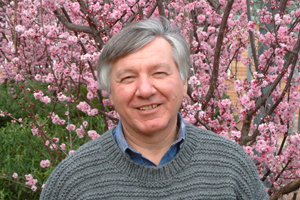 Former UCT academic Prof Peter Cook has been elected to the board of the Aquaculture Stewardship Council (ASC), a body aimed at transforming aquaculture into a sustainable and socially responsible industry. Cook, an internationally recognised abalone expert who used to head UCT's Department of Zoology, has also been appointed as the chair of the ASC's technical advisory committee.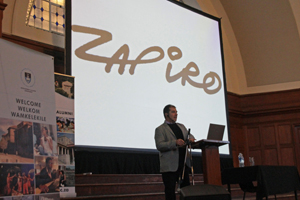 The Development and Alumni Department hosted its last Alumni Leadership Forum for 2012 on 9 October. Guest speaker Zapiro (aka Jonathan Shapiro), a UCT architecture graduate, addressed around 600 alumni at Jameson Hall. He reflected on his career as a cartoonist and delighted the audience while highlighting significant political moments in South Africa, captured through his cartoons. Humorous and engaging, Zapiro left the crowd reflecting on our nation's political future.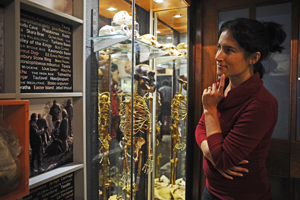 "The long-awaited healing of a sore point," is how Professor Judith Sealy, head of UCT's Department of Archaeology, described the new exhibition of archaeological artefacts and images in the Beattie Building. Speaking at the opening of the exhibition - to be found in the foyer of Beattie's level 3 - Sealy praised the efforts of Professor Pippa Skotnes and her team for putting the display together, a feat which, Sealy said, many had tried but failed to do in the past. In picture is Carol Orten.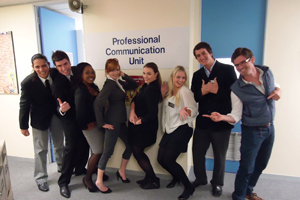 This year, UCT's Professional Communication Unit added a new twist to its annual team report competition. Each year students studying towards a Postgraduate Diploma in Management are challenged to analyse a small- to medium-sized enterprise in terms of its triple bottom line. For the 2012 class, the businesses in question were invited to a two-day mini-conference, where each student delivered an oral report on their findings.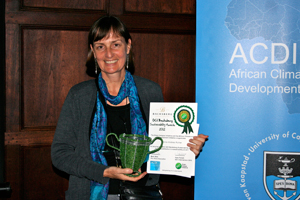 This year's winner of the Green Campus Initiative Backsberg Sustainability Award champions the cause to reduce staff and students' exposure to hazardous chemicals, especially pesticides. Dr Hanna-Andrea Rother, of UCT's Centre for Occupational and Environmental Health Research, won the award in recognition of her work to stop the spraying of herbicides for weed control on the health sciences campus, and to reduce herbicide spraying on upper campus.
---
This work is licensed under a Creative Commons Attribution-NoDerivatives 4.0 International License.
Please view the republishing articles page for more information.
---