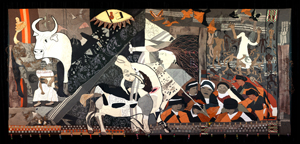 Wall to wall: The Keiskamma Guernica, created by 50 women from the Eastern Cape, forms part of Prof Jo Noero's exhibition at the Venice Biennale. (Image courtesy of the Keiskamma Art Project.)
At a blue ribbon international festival of art, cinema and architecture in Venice, a UCT architect is not only exhibiting his own handiwork, but also that of some Eastern Cape women who have rethought an influential Picasso piece.
UCT's Professor Jo Noero is the only African who has been invited to exhibit at one of the architecture world's most illustrious showcases - the 13th International Architecture Exhibition, which forms part of the Venice Biennale currently on in Italy.
The exhibition comprises 69 projects by architects, photographers, artists, critics and scholars, and runs from 29 August until 25 November in Venice, Italy. The Biennale is one of the world's major arts exhibitions, and its various exhibitions - including the famed Venice Film Festival - is said to attract some 300,000 visitors.
Renowned architect Sir David Chipperfield, the director of the exhibition, personally invited Noero, of UCT's School of Architecture, Planning and Geomatics, to exhibit at the Biennale. His pieces will sit alongside those of some of the world's top architects, including Bernard Tschumi, Rem Koolhaas and Herzog & de Meuron.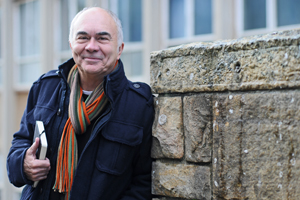 Noero's exhibition, Common Ground/Different Worlds, takes the form of a 9.4×3.5m hand-drawn plan and a 7.8×3.5m tapestry.
The hand-drawn plan is that for the Red Location Precinct, a historic shack settlement in Port Elizabeth, and illustrates a new cultural centre in a part of the city that was devastated by apartheid spatial planning. The site includes Noero's award-winning Red Location Museum of Struggle, for which he received a National Award of Merit in 2007.
The tapestry, in turn, was made by a co-operative of 50 women from the Eastern Cape. The piece, which is usually found in the foyer of the Red Location library, is exactly the same size as Picasso's canvas painting Guernica, although the theme is different - if the original is about the tragedies of war, the Keiskamma Geurnica tackles AIDS/HIV and its impact on South Africa.
"The work shows that good art can achieve common ground between different cultures," Noero said. "It also shows how an idea can survive translation and become a potent expression in a different context."
---
This work is licensed under a Creative Commons Attribution-NoDerivatives 4.0 International License.
Please view the republishing articles page for more information.
---