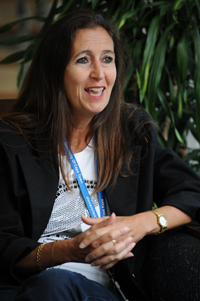 World leader: Prof Valerie Mizrahi has won a major international grant.
The number 13 is usually considered unlucky.
But not when you're UCT's Professor Valerie Mizrahi, and you have been named as one of "13 of the world's leading basic-science researchers" to receive the prestigious and princely Senior International Research Scholar (SIRS) awards, made by the Howard Hughes Medical Institute (HHMI) in the US.
Winning the award is more than a matter of luck, though. They are made to "support outstanding biomedical scientists working outside the United States who have made significant contributions to fundamental research in the biological sciences", according to the HHMI.
Mizrahi, director of UCT's Institute of Infectious Disease and Molecular Medicine (IIDMM), was selected for her work on Mycobacterium tuberculosis, the organism that causes human tuberculosis.
"Scientific research is a global endeavor, and these grants will provide an opportunity for these highly creative and accomplished scientists to explore new avenues of biomedical research, and to mentor promising early career scientists across the world," said HHMI president, Robert Tjian.
The awards are certainly generous. Each HHMI senior international research scholar will receive a grant of $100,000 per year over five years.
But it's not the cash value of the award - her third from the HHMI - that matters so much, says Mizrahi.
"It's a tremendous and singular honour to be selected as one of this group," she comments.
More than that, it allows Mizrahi, per the aim of the award, and the other 12 recipients - hailing from Australia, Canada, Europe and Latin America - to serve as mentors to HHMI's network of international early career scientists. (The HHMI had this year unveiled a new initiative, the International Early Career Scientist Programme.)
"What inspired me is the focus on mentoring early career scientists," Mizrahi says. "That's where my passion is and that's what I want to throw my energy into."
---
This work is licensed under a Creative Commons Attribution-NoDerivatives 4.0 International License.
Please view the republishing articles page for more information.
---