At first glance it may seem an unusual sideline for a university library, but UCT Libraries has thrown its weight behind a new photography award, the Ernest Cole Award.
And last night, 5 September, the fruit of its investment, the inaugural Ernest Cole Award Exhibition, took place at the Wits Art Museum in Johannesburg. The opening included the launch of the book, Life under Democracy, of the first winner of the award, Cape Town-based documentary photographer Dale Yudelman, who won in 2011.
In addition, the winner of the 2012 award, Ilan Godfrey, honoured for his documentary series Legacy of the Mine, was also announced.
A closer look at the exhibition and award shows that perhaps it is not such an odd venture for UCT Libraries.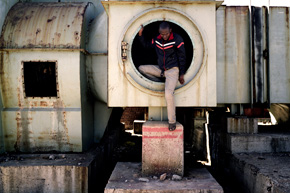 The Ernest Cole Award, explains Paul Weinberg, senior curator for the Visual Archives project in UCT Libraries and award co-ordinator, has been established to stimulate creative work in photography in Southern Africa. The award offers the winning photographer R150,000 with which to work on a photographic project of their choice with emphasis on human rights and social change.
"It's an extension of UCT Libraries' investment and interest in archives and heritage, and support of South African photography," observes Weinberg.
Yudelman's and Godfrey's winning works fit the bill for the award. Shot on an iPhone, Yudelman's Life under Democracy is said to explore the life of ordinary South Africans today. In turn,Legacy of the Mine explores the consequences of mining on South Africa's land and people.
The award is named in honour of photojournalist Ernest Cole, who worked for Drum magazine and whose 1967 work, The House of Bondage, which recorded the lives of black people under apartheid, was banned. The award was co-founded by famed South African photographer David Goldblatt, and has been made possible by the generous support of the Peter Brown, Gavin Relly Educational, Kirsh Family Trusts and Orms.
The exhibition will run in Johannesburg until 24 September, and then moves to the KZNSA Gallery in Durban and then the AVA Gallery in Cape Town.
---
This work is licensed under a Creative Commons Attribution-NoDerivatives 4.0 International License.
Please view the republishing articles page for more information.
---