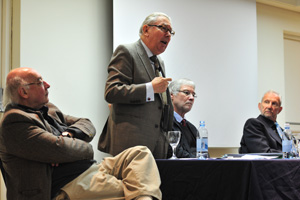 Over a dozen leading scholars in the field of Holocaust studies explored Holocaust historiography and their personal place within the field during a three-day conference hosted by UCT's Isaac and Jessie Kaplan Centre for Jewish Studies & Research, in association with the South African Holocaust & Genocide Foundation. Under the theme Holocaust Scholarship: Personal Trajectories and Professional Interpretations, scholars inserted their own biographies into their work in the wake of decades of research and reflection.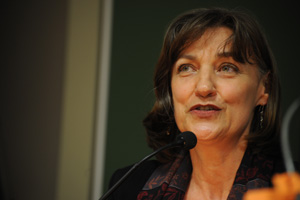 UCT announced that Dr Marilet Sienaert has been named executive director of the Research Office. The decision to move Sienaert from director to executive director was prompted by the increased complexity of the job, completely new portfolio components and a shift in emphasis from project management to strategic leadership, said Vice-Chancellor Dr Max Price.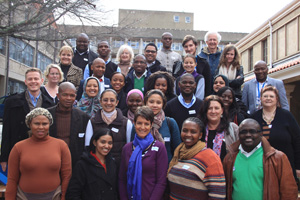 UCT's Careers Service recently launched a new training programme to brush up the skills of those people who work with school leavers. Conceived and facilitated by career advisors Lois Bloch, Athi Matinise and Ingrid van der Merwe, the one-day workshop comprised discussions, activities and case studies to help participants understand the pressures and challenges faced by matriculants.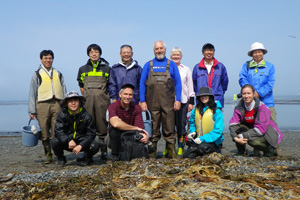 UCT's Professor John Bolton (in blue, middle) recently led a South African team - including colleagues in the Department of Botany - to Japan, as part of a project that links scientists from the two countries for a study on the evolution of marine algae. Titled Biodiversity and Evolution of Algae in the Indo-Pacific: A Japan/South Africa comparison, the project involves research on both microscopic algae (phytoplankton) and large algae (seaweeds), and comprises collecting trips, workshops and conferences in the two countries.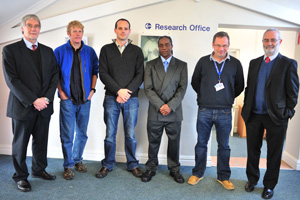 Four up-and-coming UCT scholars received some affirmation when they were presented with the university's Claude Leon Foundation Merit Awards for Young Lecturers. The awards were presented by Dr Danie Visser (far left) and Advocate Geoff Budlender (far right) of the foundation, to (from second left) Dr Ake Fagereng, Dr Adam West, Dr Tirivanhu Chinyoka and Dr William Horsnel.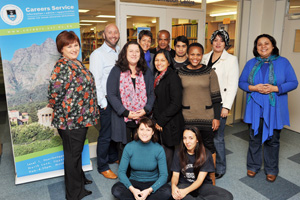 UCT's Careers Service was once again voted the Best Careers Service and Best Career Fair by more than 80 leading employers in South Africa, through a survey conducted by the South African Graduate Recruitment Association (SAGRA). Based on a survey of employers, UCT came out tops in both categories, winning nearly half of the votes for the former and one-third of the votes for the latter.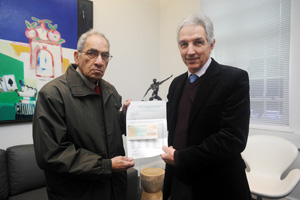 Obaid Dowray of the Hospital Welfare and Muslim Education Movement (HWMEM) handed a bursary cheque for R151 000 to Vice-Chancellor Dr Max Price, the organisation's annual award to the university. The money will benefit 24 undergraduate students. The organisation is one of the university's longest-standing patrons, contributing to UCT since the early 1960s.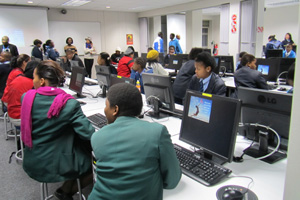 Wide-eyed high-school learners spent a Saturday morning in July getting to grips with the UCT applications process, as part of the Faculty of Humanities' wannabe@humanities programme. Wannabe@humanities is a recruitment initiative aimed at identifying and supporting prospective applicants from disadvantaged communities, facilitated by senior humanities students.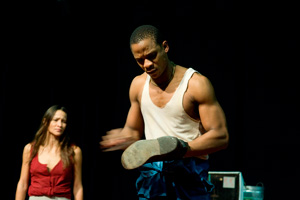 The Baxter Theatre Centre's smash hit Mies Julie received unprecedented acclaim and numerous five-star reviews at this year's Edinburgh Fringe Festival, which ended on 27 August. Theatre critics hailed this Baxter adaptation - which moves the action from Sweden to the Karoo - of August Strindberg's 1888 classic, Miss Julie, as "gut-wrenchingly powerful" and "a pitch-perfect repositioning of the action".
UCT's Dr Gregory Smith celebrated his win of the Raikes Medal of the South African Chemical Institute with a public lecture at the University of Stellenbosch. The lecture allowed Smith, recipient of the Distinguished Teacher Award in 2011, to explain his work in organometallic chemistry, where carbon and metal compounds meet and bond.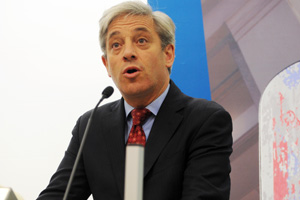 UCT staff and students were given insight into the role of the Speaker of the British House of Commons when the incumbent, John Bercow, addressed them. Bercow, a Conservative MP, was elected Speaker of the British lower house of parliament in 2009.
Multi-award-winning soprano and UCT graduate Pretty Yende put in a cameo performance at the first of this year's two Vice-Chancellor's Concerts, held on 23 and 24 August. Yende received a standing ovation for her rendition of Vincenzo Bellini's Qui la voce, from the opera I puritani. The concerts, this year celebrating Women's Month, pay tribute to the staff and students of UCT's South African College of Music.
---
This work is licensed under a Creative Commons Attribution-NoDerivatives 4.0 International License.
Please view the republishing articles page for more information.
---