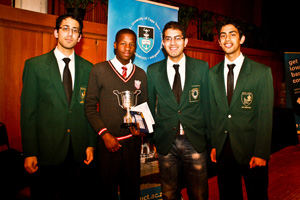 Tri-umph: Sanele Mangena (second from left) of Manyano High School received the Moolla Trophy from the Moolla brothers Haroon, Saadiq and Ashraf, formerly of Rondebosch Boys' High.
The greatest unsolved puzzle in mathematics, said deputy-vice chancellor Professor Danie Visser, is how to determine who is good at mathematics and who is not. But the high school learners at the UCT Mathematics Competition Prizegiving on 7 June, where Visser was speaking, could be fairly confident about which side of that fence they find themselves.
The créme de la créme of the record 7,251 participants who took part in the competition at UCT in April were fêted, and rewarded with prizes from competition sponsors Aurecon, Capitec Bank, Casio and Oxford University Press.
The Mona Leeuwenburg Trophy (named after one of the event's founders, and awarded to the best-performing school overall) was awarded to Bishops. The trophy has never been won by a school other than Bishops, Rondebosch Boys' High or Westerford High School.
The top individual performers were Sanjiv Ranchod of Westerford (Grade 8), Soo0-Min Lee of Bishops (Grade 9), Robin Visser of St George's Grammar School (Grade 10), Guy Paterson-Jones of Bishops (Grade 11), and Robert Spencer of Westerford (Grade 12).
The Diane Tucker trophy, presented in memory of the late teacher from Rustenburg Girls' High School to the best-performing female competitor, went to Lauren Denny, a Grade 11 learner from Rustenburg. Denny was the first learner from the school to win the trophy.
There was a new piece of silverware on offer, namely the Moolla Trophy. The trophy was sponsored by the family who, every year from 2003 to 2011, had at least one of their three son - sAshraf, Haroon and Saadiq, then at Rondebosch Boys' High - feature among the Gold Awards. This trophy is earmarked for a school that, participating in the competition for the first time, has registered a particularly noteworthy performance, and went to Manyano High School. Manyano was one of the 12 Khayelitsha schools that participated in the competition for the first time this year. Aurecon provided funding for transport to enable these schools to take part in the competition.
The UCT Trophy, awarded by the university to the best-performing school to have participated in the competition no more than three times, went to Claremont High School.
---
This work is licensed under a Creative Commons Attribution-NoDerivatives 4.0 International License.
Please view the republishing articles page for more information.
---