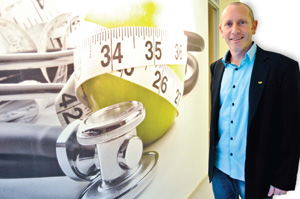 He's no stranger to the pinnacle of world sport; but for UCT's Professor Wayne Derman, the Paralympic Games in London from 29 August to 9 September represent a unique and rewarding challenge.
Wayne Derman, professor of sports medicine with the UCT/Medical Research Council Research Unit for Exercise Science and Sport & Exercise Medicine, has been selected as the chief medical officer for the South African team heading for the London 2012 Paralympics in August.
The medical team, which will administer to a squad of 63 athletes and 50 officials, is made up of two medical doctors and eight physiotherapists, the latter including a 'classifier' who makes sure that South Africa and other countries field the right athletes for the right events.
Having held similar positions for the national Olympic teams that went to Sydney 2000 and Athens 2004, as well as for the Paralympic team of Beijing 2008, Derman is well prepared for the task that awaits him.
That said, he expects less tricky medical hurdles in England than he encountered in Beijing and Down Under, where dense air pollution and allergenic trees respectively were obstacles. For one thing, London is in the same time-zone as South Africa, which theoretically makes travelling easier. Also, the city will be less of a culture shock, as the Paralympians have been competing there and elsewhere in Europe quite regularly.
"I'm actually looking forward to London possibly being one of the 'less challenging' of the travel challenges," Derman says.
He is confident that the group he describes as "arguably South Africa's most successful team" can return with a big medal haul.
Not that the group does not come with its challenges. Keeping a large squad of athletes with a range of medical conditions fighting fit will keep Derman and the rest of his own team on their toes.
But he revels in the sterling test of his clinical skills that leading a medical team for athletes with different needs demands. Now a dedicated Paralympian fan, the event offers a unique attraction, he says.
"It allows me the opportunity for self-reflection. I think you come to terms with your own disabilities and limitations."
Did you know that...
South Africa has a 63-strong team that will take part in the 14th Paralympics in London?
the achievements of our Paralympians have increased steadily, from a medal tally of eight in Atlanta (1996), to 35 in Athens (2004), and 30 in Beijing (2008), when they were sixth overall?
the Beijing Paralympics team raked in more gold medals than their able-bodied counterparts, returning from China with a record 21 gold medals?
the 2012 Paralympics team will compete in athletics, cycling, rowing, swimming, wheelchair basketball, wheelchair tennis and equestrian events, and includes household names like Ernst van Dyk (cycling), Oscar Pistorius (athletics - Pistorius will also compete as part of South Africa's 4x400m Olympics relay team, the first double-amputee to run in the Games), Natalie du Toit (swimming), Ilse Hayes (athletics), Hilton Langenhoven (athletics), Kevin Paul (swimming), Shireen Sapiro (swimming) and Tadhg Slattery (swimming)?
Stop press
UCT alumni who will participate in the London Olympics include: yachtsman Roger Hudson (BCom, BusSci, 2002 ), hockey player Andrew Cronje and cyclist Jo van der Winkel (BScEng, 2005). Alumnus Dr Ryan Kohler (MBChB, 1997)has been appointed chief medical officer of the Australian Olympic and Paralympic teams for 2012 and 2016.
---
This work is licensed under a Creative Commons Attribution-NoDerivatives 4.0 International License.
Please view the republishing articles page for more information.
---