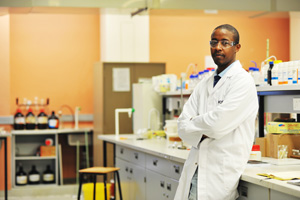 Pathfinder: Nicholas Njuguna will explore the US - and new research methods - with the American Chemical Society.
After initially believing the email confirming his selection to be a cruel joke, UCT doctoral student Nicholas Njuguna found out to his delight that, yes, he would participate in the 2012 SciFinder Future Leaders in Chemistry programme in the US in August.
"I honestly thought it must be a hoax - until I realised the email looked genuine enough," says the medicinal chemistry student.
An initiative of the Chemical Abstracts Service (CAS) of the American Chemical Society, the SciFinder programme brings together some of the most promising young scientists from around the world to network and experience the inner workings of the CAS's research methods. Njuguna plans to take full advantage of the opportunity.
"Hopefully the experiences there will create a platform from which to build my career and open up areas of interesting research I might get a chance to work on in future," he says.
Working under the supervision of Professor Kelly Chibale and Dr Collen Masimirembwa, Njuguna is studying the possibility of the human body converting chemical components found in natural-product remedies into products with potentially harmful side effects.
---
This work is licensed under a Creative Commons Attribution-NoDerivatives 4.0 International License.
Please view the republishing articles page for more information.
---