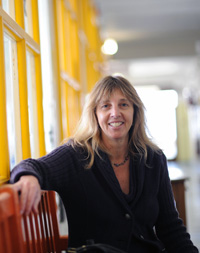 Women's work: Prof Heather Zar is only the third woman at UCT to receive an A rating.
Professor Heather Zar has just been named as UCT's latest A-rated scientist - marking her as a world leader in her field and making her only the third woman at UCT to be so rated by the National Research Foundation.
Zar, head of the Department of Paediatrics and Child Health at Red Cross War Memorial Children's Hospital, joins Professor Jill Farrant and Professor Valerie Mizrahi as UCT's three A-rated women. She is also one half of UCT's first A-rated couple - the other fraction being her husband, professor and head of psychiatry and mental health, Dan Stein.
The achievement, Zar says, affirms that not only is a dual academic family doable, but that balancing work and a happy home life - they have three children - is also possible.
Zar's A rating is the culmination of more than a decade of work to develop strategies to improve child health. As head of a large department, her job is multifaceted, encompassing research, clinical work, teaching and administration - so achieving this rating is especially gratifying, she says.
"This award is a wonderful acknowledgement of our work in child health. The rating reflects the body of work done by the excellent team that I've had the privilege to lead and work with as well as the rich collaborations that have been established."
The rating, she hopes, will hopefully also draw attention to the inequities in the funding of child health, which is "relatively under-funded and under-resourced".
Zar's wide-ranging research addresses the leading causes of childhood illness and death in African children - tuberculosis, pneumonia, HIV-associated respiratory illness and asthma. A strong focus, reports Zar, has been on pneumonia - the major killer of children under 5 years of age - and finding new strategies for diagnosis, prevention and treatment of the condition, including for HIV-infected children.
TB, a relatively neglected but important cause of childhood illness, has been another focus - Zar working with others to develop better ways to diagnose and prevent childhood TB, tools that have changed global practice. She's also done work on asthma, the commonest chronic illness in children in Africa - her research has included delineating the burden of childhood asthma in Africa and developing a low-cost device for therapy.
Zar's projects have been supported through major global funding agencies, including the National Institutes of Health in the US, the European Developing Country Clinical Trials Partnership, the Wellcome Trust, the Global Alliance for Vaccine and Immunisation, the Gates Foundation, the Rockefeller Institute and the World Health Organisation.
In so doing, she has been able to develop much-needed capacity in child health, with the establishment of a very productive paediatric clinical-research unit at Red Cross (a new expanded unit is to be built this year), the growth of several satellite clinical research sites at other health facilities such as community-based clinics, and the training of several PhD and master's students.
Such cutting-edge research has changed global practice and improved child health through better diagnostic, preventative and management strategies for childhood respiratory illnesses, says Zar.
That work is far-reaching. In 2011, she received a multi-million rand research grant to lead The Drakenstein Child Lung Health Study, a longitudinal birth cohort study that will follow 500 mother-child pairs in the Drakenstein region of the Western Cape from pregnancy through birth and early childhood. Along this timeline, they will investigate the determinants of respiratory illness, specifically pneumonia, in early life and the long-term impact on child health.
"This is an exciting and unique study in Africa, with much potential to identify new interventions to improve child health," says Zar.
Now joining what is still only a small band of A-rated women researchers in the country is also something of a special occasion, she adds.
"It is a privilege to be counted as an A-rated scientist; I hope my work can serve to inspire others."
---
This work is licensed under a Creative Commons Attribution-NoDerivatives 4.0 International License.
Please view the republishing articles page for more information.
---