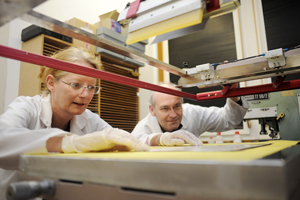 Pushing ahead: The Innovation Forum is a celebration of the work of UCT scholars like Assoc Profs Margit Härting and David Britton, whose 'electronic ink' - printable ink crammed with semiconductors - has captured both awards and the imagination of science publications.
UCT's Innovation Forum was launched in April, with its maiden event attended by inventors and innovation stakeholders from across the university.
These fora will provide the opportunity for the dissemination of information and the hosting of debate, as a 'framework' for a UCT innovation strategy is developed.
Hosted by deputy vice-chancellor responsible for research, Professor Danie Visser, the event saw a number of UCT innovations exhibited together in one place for the first time.
The invited speaker, alumnus Dr Richard Gordon, a commercialisation specialist at the Technology Innovation Agency, mentioned that when looking at university rankings, often the publication and research activities of institutions are similar. It's the commercialisation of research or innovation activity that is emerging as the key differentiator - something that has recently led to Cal Tech ousting Harvard from its top university ranking.
He is convinced that South Africa has the ability to be successful at innovation and entrepreneurship, said Gordon, but there's a mindset change that needs to happen. "UCT should have its destiny in its own hands, with access to its own funding for innovation - one cannot rely only on the government or the venture capital industry."
"It's understood that it's not for every academic," commented Professor Francis Petersen, dean of the Faculty of Engineering and the Built Environment and chair of the university's Innovation Working Group, on the Innovation Forum, "but the goal is to influence the creation of an enabling environment for innovation, to realise the intrinsic value of innovation at the university."
---
This work is licensed under a Creative Commons Attribution-NoDerivatives 4.0 International License.
Please view the republishing articles page for more information.
---