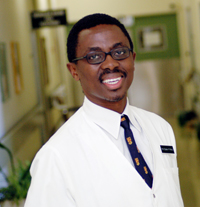 Soothsayer: A proposal to train 1,000 health-sciences PhDs, first made by Prof Bongani Mayosi in 2007, has now come to fruition.
In his 2007 inaugural lecture titled The Future of Medicine, UCT's Professor Bongani Mayosi threw a pebble into a pool.
The country and the health system, he said, needed a skilled and innovative research force. He then proposed, among other suggestions, the establishment of a clinical-research centre, based in Cape Town, that would train at least 1,000 clinical PhD scholars "who will change the fortunes of clinical medicine in Africa for the next 100 years".
It was an idea Mayosi would pitch again, on behalf of the Academy of Science of South Africa (ASSAf) in its 2009 Consensus Report on Revitalising Clinical Research in South Africa: A study on clinical research and related training in South Africa, chairing ASSAf's 13-member study panel. He brought it up again, more recently, in the 2011 National Health Research Summit Report, as chairperson of the National Health Research Committee that advises the state on health issues.
Now the ripples that sprang from that inaugural pebble have reached the national Department of Health (DoH). In April, Deputy Health Minister Gwen Ramokgopa announced that the government will launch a far-reaching PhD training programme that will aim to enrol 1,000 - Mayosi's magic number - new PhD students in the health sciences by 2022.
The DoH will fund 30 PhDs in the 2012/2013 financial year, to the tune of R13 million. It's planned that another 60 doctoral candidates will register the following year, thanks to another R30 million, and 120 more the year after, with government injecting a further R50 million.
Students will be funded for four years. In addition, the candidates will be selected from across the health sciences, says Mayosi.
"We are elevating the whole system."
The PhD initiative is just one part of a bigger programme, he explains. That research centre he mooted is one of many still on the cards; funding for priority research projects is also being discussed, as are changes to the regulatory environments of both new medicines and the current research-funding system.
---
This work is licensed under a Creative Commons Attribution-NoDerivatives 4.0 International License.
Please view the republishing articles page for more information.
---