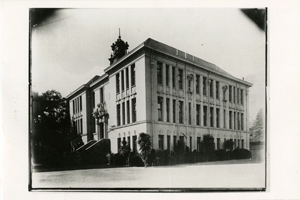 The Medical School, 1911
Dean of the Faculty of Health Sciences, Professor Marian Jacobs, writes about the faculty's centenary celebrations this year.
2012 is a special year for the Faculty of Health Sciences: we have the privilege of celebrating a remarkable milestone on 6 June, 100 years after the first medical school buildings, Anatomy and Physiology, were opened on Hiddingh Campus in 1912. Our centenary gives us the opportunity to reflect on the past, to celebrate the present, and to plan for building towards the next centenary - three goals that represent the three themes of our celebrations, and which have also been colour-coded in our logo.
And we have much to celebrate. As the oldest medical school in sub-Saharan Africa, we can look back on our remarkable achievements, having educated some of the finest minds in the country, and having produced some of the greatest medical advances - such as the world's first successful human heart transplant in 1967, as well as the research that led to the development of the CAT scanner - all right here, from our base at the tip of Africa!
Eleven deans later, the Medical School has grown from one dominated by the teaching of physicians into a Faculty of Health Sciences, which comprises a much wider range of health disciplines, from strong basic sciences and clinical, health and rehabilitation sciences (including nursing) to public health - all led by the primary health care approach, and focused on building a strong health system, based on equity.
We have seen significant changes, modernising our curriculum, transforming our demographic profile, and substantially increasing our admissions of under- and postgraduate students from all corners of our country and beyond.
The faculty is driven by our commitment to educating health professionals for life and being an acclaimed hub for research - this in the context of working towards addressing the health challenges facing South Africa and the continent we do this by promoting access to quality health care for all.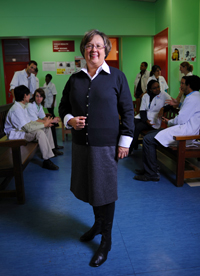 We now educate almost 4,000 undergraduate and postgraduate students each year across many disciplines, and we've built a strong track record and reputation for teaching and research excellence. In 2011, we boasted one of the best pass rates ever achieved among our final-year students.
We have more than 20 research units and groupings, with seven of UCT's 31 A-rated scientists and eight of UCT's 26 National Research Foundation chairs.
So there is so much we can be proud of. And in this centenary year, our celebrations will take the form of academic meetings, social events, and personal reflections from alumni, students and colleagues that will capture the essence of the faculty - then and now.
Core activities include a documentary about the faculty, a photographic exhibition and publications (including a special edition of the South African Medical Journal), striking a commemorative medallion, releasing an official stamp and hosting an anniversary day event on 6 June. In addition there are a number of departmental and student initiatives, such as an awards ceremony, and art, essay, cultural and sports competitions.
But we are also reflecting on the darker side of our history, and reaffirming our commitment to making sure that we do not perpetuate the injustices of the past. One of the ways in which we will mark this commitment is by saluting the many colleagues and students who spoke out against the impact of the atrocities of the apartheid system on health. Three of these are the late Francis Ames, Aadiel Moerat and Duma Baqwa, and we will recognise their contributions by naming three of the faculty's rooms in their honour.
This centenary year is also a platform to mobilise more resources for growing the faculty into the next century. We must strengthen our capacity and infrastructure in a more sustainable and appropriate way if we are to respond adequately to the health needs of the country.
So, as we stand on the threshold of a new era for the Faculty of Health Sciences, we plan to engage with our health partners to build and sustain the legacy of our faculty.
What better way to celebrate a centenary than by using this opportunity to look back, proudly revel in our achievements, and strengthen commitment to building a future in which we can continue to apply excellence and relevance in advancing health for all.
Professor Marian Jacobs
Dean: Faculty of Health Sciences
---
This work is licensed under a Creative Commons Attribution-NoDerivatives 4.0 International License.
Please view the republishing articles page for more information.
---