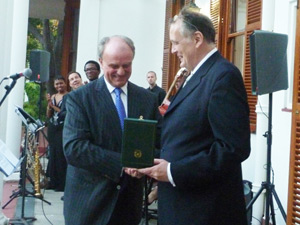 Honoured: Wilhelm Snyman's efforts in promoting Italian language and culture has been rewarded by the Italian state with a knighthood.
Lecturer Wilhelm Snyman has become the latest UCT scholar to receive the Order of Merit of the Italian Republic, aka the Ordine al Merito della Repubblica Italiana.
Snyman was formally presented with the order at the rank of Cavaliere, a knighthood, at a recent reception at the residence of the Italian ambassador to South Africa, Dr Vincenzo Schioppa. The honour was bestowed on Snyman, a lecturer in the School of Languages & Literatures, for his contribution in fostering an awareness of Italian language and culture in South Africa.
A graduate of Stellenbosch University, Snyman undertook his research at the University of Siena, Italy, for his master's degree on the Italian philospher and poet, Carlo Michelstaedter. In 2008, Snyman and former UCT senior lecturer Giuseppe Stellardi won the Italian government translation prize for their translation of Michelstaedter's La persuasione e la rettorica (Persuasion and Rhetoric).
During his more than 10 years as an arts journalist and, later, acting arts editor on the Cape Times, Snyman wrote extensively on Italian-related themes and figures, including features on Italian artists, musicians and cineastes.
Besides teaching the language, Snyman sees his task as one of broadening students' horizons by helping them to engage critically with some of the major Italian writers, including Machiavelli, Leopardi, Pirandello and Bassani. "One may regret many things in life, but never the acquisition of another language, and Italian comes with an unsurpassed cultural heritage that has influenced creativity all over the world," he says.
Other UCT recipients of the Italian knighthood are Professor Mino Caira and Emeritus Professor Luigi Nassimbeni, both of the Department of Chemistry.
---
This work is licensed under a Creative Commons Attribution-NoDerivatives 4.0 International License.
Please view the republishing articles page for more information.
---