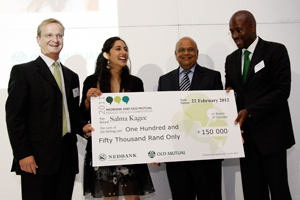 Winning smile: Salma Kagee celebrates her win with Finance Minister Pravin Gordhan (to her left); Mike Brown, CEO of Nedbank (far left) and Ralph Mupita, CEO of Old Mutual Emerging Markets. (Picture by Amy Tertins.)
UCT student Salma Kagee obviously has a knack for the Nedbank Old Mutual Budget Speech Competition.
Just hours after delivering his budget speech on 22 February, Finance Minister Pravin Gordhan named Kagee, a master' s student in economics, as the winner of the competition's postgraduate category for 2011. Just a year ago, Kagee had collected the title as the top student in the 2010 undergraduate category, so with her latest win becoming the first student in the competition's 40 years to complete such a double.
The annual contest challenges the country's young scholars to submit an essay on a question related to the country's economic climate. This year, Kagee and her postgraduate peers had to endorse or refute the position that weakening the Rand's exchange rate could bring about sustainable economic growth.
Kagee (see her essay here) refuted, instead suggesting several policy interventions to boost export growth, develop the manufacturing sector and create jobs. These included curbing exchange rate volatility through a Tobin tax (a tax on international currency transactions), developing transport infrastructure, creating incentives to move into high-growth industries, and investing in manufacturing-specific education.
Kagee wasn't the only UCT student to catch the judges' eye with their business savvy. Baraka Msulwa and Matthew Zunkel were joint first runners-up in the undergraduate category, in which students had to ponder the feasibility of nationalising the country's mining sector. And first runner-up in the postgraduate section, Nchimunya Hamukoma, is also currently reading towards a master's at UCT, although she submitted her entry while studying at Rhodes University. (With his win in the undergraduate category, Stellenbosch University student Pierre Vercueil made sure both titles came to Cape Town this year.)
But it was Kagee who was the big winner on the night, picking up a winner's prize of R150,000, which she will be using to pay for her master's studies. She takes an equally pragmatic - if optimistic - stance towards Gordhan's widely praised budget speech.
"At some points I was baffled, but I was actually generally happy with the budget," she says. "I mean, he touched on all the important issues that I thought needed to be addressed, but, at the same time, I have no idea whether we'll be able to afford it."
That's something she can perhaps cover in her next essay.
Follow this link to see Professor Don Ross, dean of the Faculty of Commerce, share his thoughts on the national budget.
---
This work is licensed under a Creative Commons Attribution-NoDerivatives 4.0 International License.
Please view the republishing articles page for more information.
---