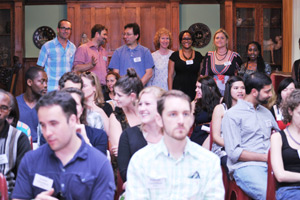 United front: (At back standing, from left) Bradley Rink (ACDI), Prof Thomas Sterner (University of Gothenburg), Prof Mark New (pro-vice chancellor and director, ACDI), Mary van Blommestein (Irma Stern Museum), Trena Drayton (NYU), Assoc Prof Martine Visser (UCT) and Nyambura Mwagiru (facilitator, CoLi) at the welcoming function for NYU and UCT students, hosted at the Irma Stern Museum.
The impact of climate change on a developing country is the main focus of a brand new programme run by UCT and New York University (NYU) over the vacation.
Nine UCT students from the newly-established African Climate and Development Initiative (ACDI) and 14 of their peers from NYU are taking part in a two-week master's programme on the economics of climate change and sustainable development.
NYU is the second institution from New York to choose UCT as a preferred destination for vacation studies this summer (winter in the US), following the arrival of another group from Queens College. The visits form part of the internationalisation programme of the Centre for Open Learning in UCT's Centre for Higher Education Development.
The ACDI course is the first joint training venture between UCT and an overseas institution on climate change. Through lectures and visits to sustainable development projects around Cape Town, it is designed to give participants insights into the social and economic impacts of climate change. "The course looks at how people respond to climate risks, at climate change implications for the poor and at how people can change their behaviour," said the ACDI's Associate Professor Martine Visser, who is convening the course.
According to Visser, Cape Town is a perfect location from which to host the training because of its "massive" socio-economic imbalances.
Among the presenters was Thomas Sterner, professor of environmental economics at the University of Gothenburg, Sweden. He was flown in to present the first workshop in the programme, on the economic viability of sustainable petrol taxes as a strategy to help reduce carbon emissions.
---
This work is licensed under a Creative Commons Attribution-NoDerivatives 4.0 International License.
Please view the republishing articles page for more information.
---