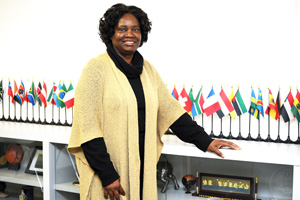 Changing landscape: Dr Loveness Kaunda and others will welcome delegates from across the globe to UCT for the 16th Annual IEASA Conference.
UCT will host the 16th annual conference of the International Education Association of South Africa (IEASA) from 29 August to 1 September.
The theme for the conference, to be held at the Southern Sun Cape Sun, will be Promoting Higher Education Internationalisation Research through International Collaborations, Partnerships and Innovative Teaching. Delegates will explore different perspectives on internationalisation in higher education in Africa, research, partnerships and leadership issues as well as curriculum, innovation and growing the next generation of global scholars.
Keynote speakers will include Vice-Chancellor Dr Max Price; Dr Damtew Teferra, founding director of the International Network for Higher Education in Africa; Professor John Hearn, chief executive of the Worldwide Universities Network, of which UCT is a member; and Professor Danie Visser, deputy vice-chancellor responsible for research at UCT. Many local and international scholars and government officials will also speak at the conference.
Among other things, the event will feature a leadership symposium at which Price, as facilitator, and other heads of universities will lead a discussion on issues in higher education internationalisation in Africa. It will also feature a Research Indaba, focusing on internationalisation and research, in which institutional research leaders and policy-makers will share perspectives, following a keynote speech by the Minister of Science and Technology, Naledi Pandor.
Among those "thrilled" that UCT is hosting this conference and that it has attracted so many renowned scholars, leaders, experts and practitioners from all across Africa and the rest of the world, is the director of the International Academic Programmes Office, Dr Loveness Kaunda. She is also pleased that many academics will be attending the conference.
"I hope they will find the topics under discussion highly pertinent to their teaching and research agenda and that they will be exposed to trends and hot topics in higher education internationalisation."
UCT last hosted the IEASA conference in 2004, and much has changed in the internationalisation landscape since then, notes Kaunda. The theme of the conference, she explained, was selected by UCT to reflect the growing role of partnerships and collaboration in advancing internationalisation at South African higher education institutions.
---
This work is licensed under a Creative Commons Attribution-NoDerivatives 4.0 International License.
Please view the republishing articles page for more information.
---