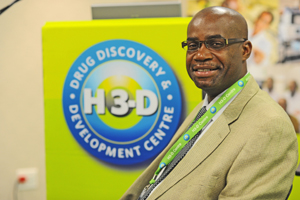 Leading from the front: Three UCT research facilities, including the Drug Discovery & Development Centre of Prof Kelly Chibale, have been named as centres of excellence by the African Network for Drugs and Diagnostics Innovation.
UCT won no less than three mentions - more than any other institution - when the African Network for Drugs and Diagnostics Innovation (ANDI) recently recognised 32 African research facilities as ANDI Centres of Excellence in health innovation.
Professor Jonathan Blackburn's group at the Institute of Infectious Disease and Molecular Medicine was named the ANDI Centre of Excellence in Proteomics and Genomics. In turn, Professor Kelly Chibale's Drug Discovery and Development Centre (read Monday Paper article on the centre's launch) was designated as the ANDI Centre of Excellence for Drug Discovery. And Professor Keertan Dheda's group at the Lung Infection and Immunity Unit was identified as the ANDI Centre of Excellence for TB Diagnostics Research.
Made up of scientists, policy makers, donors, governmental and non-governmental organisations from Africa and elsewhere, ANDI was launched in 2008 with the aim to encourage and boost the ability of African countries to develop its own new treatments and diagnostics. Up to now, the Network indicated at the time, Africa has had little say or control over the source and supply of medicines most needed by its citizens.
These 32 new centres of excellence, spread across five sub-regions, are meant to lead from the front. They will take on both their own and ANDI-initiated projects.
"This is the beginning of a process that we hope will encourage African governments to invest in their institutions and scientists to become world-class facilities in order to advance health innovation in Africa," remarked Dr Solomon Nwaka, ANDI director, at the meeting in Addis Ababa, Ethiopia, where the CoEs were announced.
"This is a prestigious honour," says Dr Ureshnie Govender, postdoctoral research fellow at the Lung Infection and Immunity Unit, "in that a select few of the brilliant minds from each corner of Africa have been elected to work as a team with the vision of a healthier, more prosperous future for the people of Africa. In doing so we take the responsibility as a nation to improve lives by that are burdened by disease and to encourage, and to develop young, talented researchers within our borders."
---
This work is licensed under a Creative Commons Attribution-NoDerivatives 4.0 International License.
Please view the republishing articles page for more information.
---