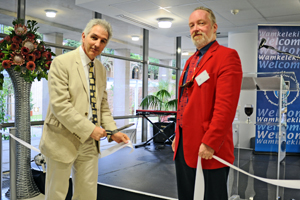 Open sesame: The vice-chancellor, Dr Max Price, and Prof Don Ross cut the ribbon on the new School of Economics building.
Dozens of top business executives and prominent academics were present on 9 November at the official opening of the new School of Economics building on UCT's Middle Campus.
Of course, the building has been in operation since earlier this year.
Dean of Commerce Professor Don Ross said that the new building would allow the school to be re-united with its many research units, which were previously scattered around the university's campuses.
Ross acknowledged that few academic departments at UCT enjoy a dedicated building. But, he said, the new building was an important milestone for both the School of Economics and South Africa as a whole.
Identifying UCT (and the Faculty of Commerce, in particular) as a "crucial contributor to the dynamism and competitiveness of the economy", Ross expressed gratitude to the many donors whose philanthropy had underpinned the building of the new school.
"Generating new knowledge is the theme of the fundraising programme that's also being launched tonight," said Ross.
Unashamedly pitching the school to potential sponsors, Ross encouraged further donations, saying that running a world-class university was expensive but necessary.
Guests at the event also witnessed the unveiling of the Silver Tree donor recognition wall, which bears the names of all major benefactors to the school in 2011.
Keynote speaker Neville Isdell, a UCT alumnus and former CEO of Coca-Cola, said the business world faced an impending crisis. Support for the neo-liberal economic system was dropping globally, he said, so much so that the very proposition of the market system was under threat.
"Politicians can grab onto that and use that to undermine what has been the greatest driver in poverty alleviation," he says.
Despite popular reservations about the market system, the fact remained that governments are unable to perform the "policeman" role they are meant to play in economies, he argued.
Isdell's proposed solution - what he calls 'connected capitalism' - pools power bases from business, civil society and government to deliberate on solutions to problems facing economies. Collaboration is the key to sustainable growth, he said.
He hopes, he added, that the new home for the economics school will give rise to a generation of economic leaders who have the power to be collaborative.
---
This work is licensed under a Creative Commons Attribution-NoDerivatives 4.0 International License.
Please view the republishing articles page for more information.
---