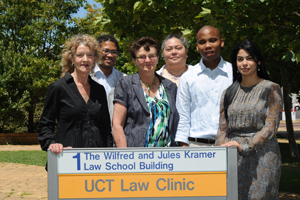 Strong team: Members of the relocated UCT Law Clinic, (from left) Bev Bird, Paul Anthonie, Pat Norris, Matilda Smith, Zolani Buba and Siyaam Ally.
It took a change of location within the Kramer Building for some staff members in the Faculty of Law to appreciate that the UCT Law Clinic is indeed a fully functioning law practice.
For one thing, the clinic boasts an entry in the Cape Law Society's handbook. It also has a substantial staff body - three attorneys, two candidate attorneys, one admin manager and, wait for it, 60 supervised legal assistants in the shape of students registered for the final-year elective course in legal practice.
"What brings it home that this is a thriving law practice, I think, is the fact that since joining us in March, our candidate attorney, Paul, has been in court no fewer than 105 times," said director Bev Bird. And, she quips, the clinic offers a "pretty decent service, because as attorneys, we go to our clients and not vice versa, and as lecturers, we open our doors to students at 08h00 every day and don't close until it's time to go home".
Its new premises may better reflect the size of the practice.
The Law Clinic's new offices include a new, open-plan student workroom, a facility that was sorely lacking in the clinic's previous offices and that now houses the clinic's bulky case files and reference books. In addition, the new premises make provision, for the first time, for a private consulting room, where students can consult clients in a "professional and secluded atmosphere", says Bird.
There are also plenty of work stations for the legal practice students who serve as legal advisors.
Cutting the ribbon of the new premises at the 'opening' in October was client Mastoera Williams. For her the UCT Law Clinic meant a service she could trust and people with compassion and empathy who listened to what she had to say.
"You showed me that it was about following the rules, not about uselessly fighting for something, and I want to thank you all from the bottom of my heart, and on behalf of my community," said Williams. "We need your help. People lose their houses because they don't know the law."
---
This work is licensed under a Creative Commons Attribution-NoDerivatives 4.0 International License.
Please view the republishing articles page for more information.
---