Archbishop Emeritus Desmond Tutu has joined UCT students and staff, local civil organisations and high-profile individuals to create It Gets Better - Cape Town and voice their support for sexual minorities.
This collection of 18 videos makes up the first South African contribution to a global video campaign targeting sexual minorities who experience discrimination in secondary schools and beyond. Contributors include the captain of the UCT rugby team, the deputy editor of the Varsity student newspaper, members of the UCT Students' Representative Council, and university staff members and students.
It Gets Better - Cape Town was launched for free viewing on YouTube on October 11. Later this month, part of the collection will be screened at the Out in Africa: South African Gay and Lesbian Film Festival. (Visit youtube.com and search for 'it gets better - Cape Town').
The director and producer of the series is Andrew Barry, a master's in education student at UCT. "I want sexual minorities in Cape Town to know that there are individuals and organisations who will support them," says Barry.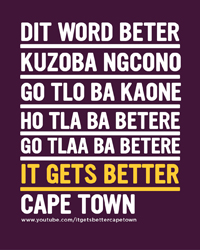 It Gets Better was launched in the US in 2010 by American syndicated columnist and author Dan Savage, with his partner Terry Miller. They were responding to the suicide of a number of students who were being bullied in school. The videos, targeted especially at young people who are considering suicides, explain that their lives will "get better".
Since the first video, the It Gets Better project has become a worldwide movement, inspiring more than 25 000 user-created videos that have been viewed more than 40 million times.
Creators of It Gets Better videos include US President Barack Obama, US Secretary of State Hillary Clinton, UK Prime Minister David Cameron, actress Anne Hathaway, entertainers Adam Lambert and Ke$ha, Facebook, Google, and staff at Apple Computer.
The It Gets Better - Cape Town team shares unique messages of hope and solidarity for sexual minorities.
Tutu states: "If you experience discrimination on the grounds of sexual orientation, I want you to know that It Gets Better. There are people and organisations throughout this wonderful land that will support you. We should support one another as an act of true ubuntu."
Each video is unique in that each speaker gives a different message along the lines of the central theme.
---
This work is licensed under a Creative Commons Attribution-NoDerivatives 4.0 International License.
Please view the republishing articles page for more information.
---