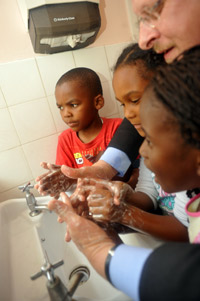 On the other hand: MEC Theuns Botha gives children at Red Cross Hospital a lesson in handwashing.
By all measures, handwashing is one of the simplest things to do, yet has immense health benefits. South Africa, though, still has a long way to go to promote this basic cleansing ritual.
According to recent studies, 60% of South Africans don't wash their hands properly after using the toilet. In addition, 3.5 million young children in the world, 75% of them from Sub-Saharan Africa and south Asia, die from diarrhea and lower respiratory-tract infections. This is despite the fact that thorough and frequent handwashing with soap helps to prevent such conditions.
Part of the problem, noted Dr Kgosi Letlape, president of the Africa Medical Association, is that most parents don't teach their children to wash their hands properly.
"We are terrible parents," Letlape said on 12 October at an event at the Red Cross War Memorial Children's Hospital to mark Global Handwashing Day this Saturday, 15 October. The event was hosted by Dettol and the Children's Hospital Trust, fundraiser for the Red Cross Hospital.
Letlape noted that other contributing factors are the lack of resources, including soap, and that even some health practitioners don't wash but rinse their hands. Western Cape health MEC Theuns Botha said a programme ran by his government last year to promote proper handwashing has significantly reduced the prevalence of diarrhea, and lowered the deaths of children under five years old from 37 to four.
"We need to regard this as a very strong and important message."
---
This work is licensed under a Creative Commons Attribution-NoDerivatives 4.0 International License.
Please view the republishing articles page for more information.
---