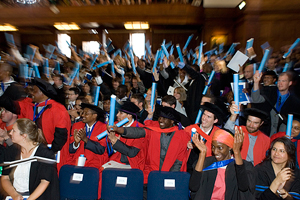 World class: UCT has done well in recent international rankings, owing in large part to its researchers, the international diversity of its staff and students, and the standing of its graduates.
UCT has climbed four spots, from 107 in 2010 to 103 this year, on the Times Higher Education (THE) World University Rankings, released on 6 October.
The university's strong performance, said vice-chancellor Dr Max Price in a statement, is the direct result of the productivity and impact of UCT's research, the university's ability to attract research grants, the quality of its staffing, the international diversity of its staff and students, and the strong perceptions of the quality of the its graduates by the international community.
"These factors are part of UCT's strategic goals, and I want to thank all the members of our research, teaching and support staff, who work so hard to make progress in these areas."
The THE methodology relies on 13 indicators within five broad categories: teaching, or the learning environment (worth 30% of the final score); research, in terms of volume, income and reputation (30%); citations, which indicate research influence (32.5%); industry income (2.5%); and international mix of staff and students (5%).
UCT also performed well in two other global university ranking systems this year. The
Quacquarelli Symonds (QA) World University Rankings
for 2011/12, released in September, placed UCT at number 156, up from 161th place last year. The QS system continues to rank UCT as the only university in Africa in the top 200.
And UCT remained in the top 300 range of the Shanghai Jiao Tong Academic Ranking of World Universities (ARWU), announced in August.
Prospective students and staff around the world use these rankings to decide where to study and work, said Price. A good showing on these systems helps to raise confidence not only in the specific university, but also in the quality of higher education that is on offer in South Africa.
"Our reputation also facilitates our many research partnerships with other universities in the country, in other parts of Africa and the rest of the world. These partnerships undoubtedly further contribute to our research effort and reputation."
That said, the university recognises that every ranking system has its shortcomings, especially when it attempts to compare institutions across such a wide range of communities, added Price. So, for example, universities in developing countries face challenges that are different to those of their counterparts in wealthier countries.
In South Africa one of the primary challenges is to improve access to higher education for potential students from poorer communities, and to bridge the gap between inadequate schooling and high university standards, said Price. These challenges are not, however, reflected in the major university ranking systems, yet they are faced by every university in this country.
"So when a South African university is able to make progress in meeting local requirements while achieving recognition by its international peers, the reward is that much greater."
---
This work is licensed under a Creative Commons Attribution-NoDerivatives 4.0 International License.
Please view the republishing articles page for more information.
---