Part of the Green Campus Initiative (GCI), Green Week kicks off at UCT on 3 October and heralds a full programme of events on campus. To mark the week, Monday Paper has gone green, and so, too, has UCT's website.
During Green Week, the GCI will promote a couple of new projects, testimony that the five-year student-driven initiative is growing bigger - and better. Among these the Consumer Activism project, which teaches students and staff to be 'consumer conscious' by buying products that promote sustainability, and to know their rights as consumers.
"The Consumer Protection Act is a fantastic piece of legislation, but a lot of people don't realise their rights in that area," said Kate Pallett, GCI's head of marketing.
The theme of this year's Green Week is Cop 17, hinting at the United Nation's Framework Convention on Climate Change, to be held in Durban in November and December this year.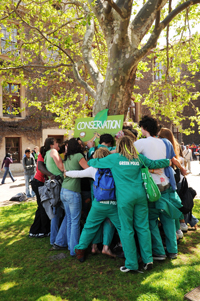 Ridelink, one of GCI's most successful projects (800 students signed up for the carpooling project, and 75% of the reserved parking bays are always full in the mornings), gave birth to Bikelink, an initiative to encourage students to use bicycles to come to campus. Although still in its infancy, the idea is to improve cycling paths to campus, and to get the university to rent out bicycles to students at cheap rates.
Sustaining and extending the GCI's work to the broader communities also took another positive turn when some of the organisation's former members launched the Trashback Recycle project, incentivising recycling collection in Hout Bay.
Pallett said the GCI is also collaborating with UCT management, the City of Cape Town and other student bodies, such as Ikey Tigers, to promote environmental sustainability. The GCI is also a member of the Bluebuck Network, a student-focused body for organisations involved in environmental and sustainability work.
Other Green Week events include a talk on nuclear energy, the screening of a documentary on environmental issues, music performances, and an awards ceremony for staff and students. (For more information, go here.)
---
This work is licensed under a Creative Commons Attribution-NoDerivatives 4.0 International License.
Please view the republishing articles page for more information.
---