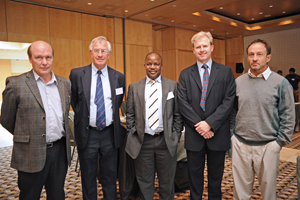 Mineral growth: At the Cape Town launch of SAMMRI were (from left) Marinus du Plessis of Exxaro, Prof Cyril O'Connor, July Ndlovu of Anglo American Platinum, Dr Neville Plint, and Dr Victor Ross of Lonmin. Du Plessis, O'Connor, Plint and Ross are members of the SAMMRI board.
The newly formed South African Minerals to Metals Research Institute (SAMMRI) sprang from a tripartite collaboration between government, industry and academia to promote the development of mineral processing research in South Africa.
To this end, SAMMRI's formal launch on 3 August was also the launch for its pilot programme: nine projects have been awarded to six South African universities, and researchers presented the progress of their work during the course of the day.
Three projects are run by UCT research teams. Professor Jean-Paul Franzidis' project in the Department of Chemical Engineering is on the development of a method to recover coal while addressing the risks of acid rock drainage; Associate Professor Dave Reid's team in the Department of Geological Sciences is testing platinum mine tailings (the leftover materials after valuable and not-so-valuable ore have been separated) residue for gas emissions; and Dr Aubrey Mainza in the Department of Chemical Engineering is researching the energy consumption of tumbling mills (grinding machines).
Through its nine projects, SAMMRI also hope to boost the number of postgraduates nationally entering the mining industry.
The project's long-term goal is for the R3-million investment from government and industry for the pilot programme to develop into long-term (and significant) rolling funding jointly supported by industry and government.
Newly elected SAMMRI chairman, Dr Neville Plint from Anglo American Platinum, believes SAMMRI will serve as a catalyst to build the next generation of researchers. "Right now, one of our main goals is the growth of research capacity at our universities by getting involved in these projects."
Plint argues that SAMMRI's industry origins are advantageous for all involved. "Through the involvement of government (DST), universities and industry, we'll have access to partnerships and resources to implement the outcomes of newly generated research," he says.
Emeritus Professor Cyril O'Connor, director of UCT's Centre for Minerals Research, was deeply involved in establishing SAMMRI. Speaking at the launch, O'Connor said that the institute would make a significant contribution to ensuring that South Africa remained globally competitive in its mining and minerals processing R&D, as it faced the new challenges of lower-grade ore bodies and the need to use water and energy in a sustainable manner. It will also contribute greatly to the production of highly skilled people for the industry.
---
This work is licensed under a Creative Commons Attribution-NoDerivatives 4.0 International License.
Please view the republishing articles page for more information.
---