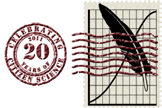 Happy birthday: Citizen scientists are the backbone of the ADU.
In June 2011 the Animal Demography Unit (ADU) hosted a 20th anniversary celebration - in the form of a programme of presentations - at the Kirstenbosch National Botanical Gardens, one of the many such events they have lined up for the year.
This includes the Digital Biodiversity Week from 23 to 31 July, where the ADU will toast the countless 'citizen scientists' who have helped build the unit's digital biodiversity databases, which now hold some 15 million records.
The ADU was founded as the Avian Demography Unit in 1991. It changed its name in 2008 to better reflect the range of its work, which is focused on animal diversity. Alumnus and ADU director Professor Les Underhill explains how the unit came into being:
"I graduated with a PhD in Mathematical Statistics in 1973. I first rebelled against the totally non-applicable statistics I did for my PhD (38 years on, all I can say is that I solved an abstract problem no-one has ever had in reality), and did research in a branch of statistics called 'ordination,' which was actually used by researchers in many disciplines.
"The focus steadily moved towards applications of statistics in biology, especially data related to birds. In 1991 the University Research Committee established the Avian Demography Unit, which was responsible for a series of bird mapping and bird monitoring projects. The name rapidly became a misnomer, because we extended our domain beyond birds to the frog atlas, then reptiles and butterflies."
The anomaly, says Underhill, was finally resolved only four years ago, when the name was changed to 'Animal Demography Unit'.
"In the first years the ADU's focus was on data collection and curation. It took a few years for enough data to accumulate for postgraduate-worthy projects to develop. The first postgrads to emerge who could really say: 'I used ADU data' were MSc Vincent Parker (1995) and PhD Anabela Brandao (1998); the total number of ADU-supervised or co-supervised PhDs is 22, and MScs 18."
(The pdfs of all the theses since 2000 are on the ADU website.)
---
This work is licensed under a Creative Commons Attribution-NoDerivatives 4.0 International License.
Please view the republishing articles page for more information.
---