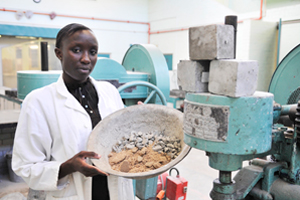 Solid win: Olutayo Boyinbode (below) and Rachel Muigai (left) have won a prestigious and handsome fellowship for women in science in sub-Saharan Africa.
UCT's Olutayo Boyinbode and Rachel Muigai were among the 10 young women recently named as winners of L'Oréal-UNESCO Regional Fellowships for Women in Science in Sub-Saharan Africa.
These fellowships, aimed at doctoral students, are in keeping with UNESCO's premise that people are the world's greatest resource, and that innovation and excellence, especially among young women, deserve to be supported and encouraged through the concerted efforts of the international community.
Boyinbode, based in the Department of Computer Science, is focussed on designing and implementing adaptive and personalised middleware - computer software that connects other software to each other - to support different handicapped learners. Computing devices such as sensors, actuators, radio-frequency ID tags, mobiles phones and tablet computers will be incorporated into the learning middleware, which will be targeted at both able and handicapped learners.
Muigai is conducting her research with the Concrete Materials and Structural Integrity Research Unit (CoMSIRU), where she works on design and construction solutions that will lead to sustainable concrete infrastructure in South Africa. In particular, her study explores ways to ensure that future concrete structures have the lowest possible carbon footprint, emissions, energy use and impact on the environment and society.
She admits that working in a male-dominated field still comes with its challenges. "Despite having a deep interest in the field, as a woman I'm constantly challenged as to why I want to work in construction," she says.
Fellowship winners will each receive a grant of $20 000 (over R135 000) to help them complete their studies, and to enable them to raise their profiles, showcase their work, and drive their projects.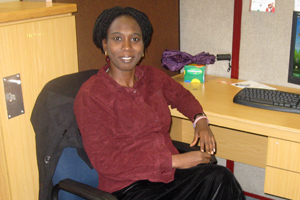 "Access to funds - especially in Africa - is far too often a barrier to women completing their studies," says Philippe Raffray, managing director for L'Oréal South Africa. "Through the fellowships we aim to remove at least this barrier, and open up a world of opportunities not only to the talented women selected as fellows, but also to the African community and the world at large through scientific research that might not have come to fruition without financial assistance."
Understandably, the fellowships offer welcome financial assistance to both students.
"I'm really very happy to win this fellowship," says Boyinbode. "It will go a long way in helping me tackle the financial constraints I've encountered in purchasing the required equipment for my research and travelling to international conferences to present my work."
---
This work is licensed under a Creative Commons Attribution-NoDerivatives 4.0 International License.
Please view the republishing articles page for more information.
---