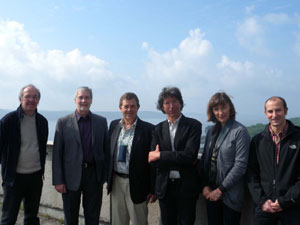 Singing the same tune: A senior delegation from UCT and l'Université de Bretagne Occidentale met to strengthen ties. (From left) Dr Claude Roy, Prof Danie Visser, Prof John Field, Dr Yves-Marie Paulet, Dr Marilet Sienaert, Dr Steven Herbette.
A senior UCT delegation visited France recently to discuss co-badging degrees (badges of two universities appear on the degree certificate), and ultimately joint degrees in marine science with the l'Université de Bretagne Occidentale (UBO) in Brest and the University of Montpellier (UM2).
The five-day visit in May was undertaken by deputy vice-chancellor Professor Danie Visser, director of UCT's Centre for Marine Research (MA-RE), Professor John Field, and director of the UCT Research Office, Dr Marilet Sienaert, together with Drs Steven Herbette and Francis Marsac of the Institut de Recherche pour le Développement (IRD).
Visser and Professor Pascal Olivard, president of UBO, signed a Letter of Intent, and a general Memorandum of Understanding (MOU) between the two universities was developed.
The trip will go a long way to strengthen the university's research in marine sciences, and boost endeavours to understand climate variability, climate change and development from the African perspective. The France-South Africa partnership in Atmospheric and Marine Sciences has already been established through the IRD and MA-RE.
According to Field, the two university delegations also discussed a Specific Implementation Agreement for co-operation in marine science, student and staff exchanges, funding for these, and mutual acceptance of each other's masters' modules, as well as the co-supervision of doctoral students.
---
This work is licensed under a Creative Commons Attribution-NoDerivatives 4.0 International License.
Please view the republishing articles page for more information.
---