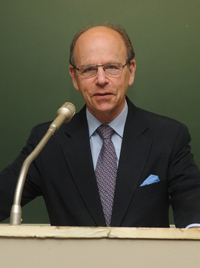 Knighted: UCT law alumnus Prof Sir Jeffrey Jowell, KCMG QC.
The British Institute of International and Comparative Law has announced that UCT law alumnus and trustee of the UCT Trust in the UK, Jeffrey Jowell, has been awarded a knighthood in the Queen's Birthday Honours list in recognition of his services to human rights, democracy and the rule of law.
Jowell is director of the Bingham Centre for the Rule of Law in the UK, a centre devoted to the study and promotion of the rule of law through comparative research, discussion and training.
Jowell also practises at the Bar at Blackstone Chambers and is professor emeritus at University College London (where he was Professor of Public Law, dean and vice-provost).
After graduating from UCT in 1960, Jowell studied further at Oxford and Harvard and for the past 35 years has been professor of law at University College London (UCL), and a practising member of the English Bar.
One of the UK's leading public lawyers, with numerous publications in constitutional, administrative and planning law, he has been visiting professor at universities all over the world, and has received a number of honorary degrees, including from UCT and the universities of Athens and Paris.
Jowell has advised on the constitutions of a number of countries, especially in the Commonwealth and the former Soviet Union.
"He maintains close links with his alma mater; for example, as dean of UCL's law faculty he initiated, with Professor Hugh Corder, academic and student exchanges between UCL and UCT that still continue," said Professor PJ Schwikkard, Dean of the Faculty of Law.
"He has also embodied the spirit of his honorary professor tenure, and so it was most fitting that he delivered the first Rabinowitz Lecture, titled The Rule of Law and the Power to Prosecute, as part of the Faculty's celebrations of 150 years of teaching law."'
In a message of congratulations, vice-chancellor Dr Max Price wrote: "Many congratulations on being recognised for your significant achievements in the Queen's Honours list. On behalf of UCT we are very proud to have you as an alumnus, a trustee, a supporter and counsellor and I know for many in the law faculty, a personal friend."
---
This work is licensed under a Creative Commons Attribution-NoDerivatives 4.0 International License.
Please view the republishing articles page for more information.
---