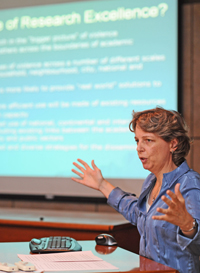 All-embracing: Dr Catherine Ward spoke of the need to bring many disciplines under the umbrella of the Safety and Violence Initiative.
Eighteen months in the making, UCT's Safety and Violence Initiative (SaVI) made its public debut on 1 April when it hosted its inaugural colloquium.
The initiative covers one of the national priorities, crime and violence, identified by vice-chancellor Dr Max Price when he was first appointed. These are areas of interest and concern (climate change, education and poverty are among them) he wanted to turn into strategic research drives at the university.
In response to an appeal for strategic research proposals at the end of 2009, Dr Catherine Ward of the Department of Psychology corralled UCT scholars and researchers from across the campus and proposed the establishment of SaVI. Now finally up and running, the initiative brings together scholars from the Institute of Criminology, the Gender, Health and Justice Research Unit, the Law, Race and Gender Research Unit, the Department of Psychology, the School of Public Health and Family Medicine, the Department of Social Anthropology, the Department of Social Development, the Centre for Social Science Research (CSSR), and the Department of Surgery, among others.
SaVI is funded by the Vice-Chancellor's Strategic Fund, which has earmarked R500 000 for its start-up research projects.
Getting SaVI off the ground and hosting the launch colloquium took some doing, noted deputy vice-chancellor for transformation and social responsiveness, Professor Crain Soudien, at the opening of the event.
"I think it's because it's been so difficult pulling together people who come out of such disparate corners of the same patch," said Soudien.
And as illustrated at the colloquium, where UCT academics, researchers and students working on issues of violence were able to throw their particular work into the pot, the corners were sometimes far flung.
So, for example, Professor Jeremy Seekings of the Social Surveys Unit in the CSSR spoke of the yardsticks by which the culture of violence in South Africa can possibly be measured. In turn, Dr Marion Walton of the Centre for Film and Media Studies spoke on the visual representation of xenophobic violence in the media. And Dr Britta Dedekind of the Department of Surgery outlined statistics of women who, as victims of violence, are directed to the Trauma Centre at Groote Schuur Hospital.
Other speakers covered racial and national identity, the association between substance abuse and violence, youth resilience, health promotion and police narratives, among other topics.
With so much ground to cover, greater research integration, or "trans-disciplinarity", is called for, said Ward, who is currently chairing SaVI.
"The sense that we have is that violence, just like any other social problem of the 21st century, cannot be addressed within the boundaries of a single discipline."
---
This work is licensed under a Creative Commons Attribution-NoDerivatives 4.0 International License.
Please view the republishing articles page for more information.
---