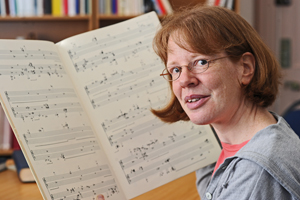 Musician abroad: Assoc Prof Rebekka Sandmeier has joined the South African College of Music from Germany.
German musicologist Associate Professor Rebekka Sandmeier has taken the reins from Professor Peter Klatzow, who retired from the South African College of Music (SACM) last year after 37 years.
Sandmeier's field of expertise is in musicology - or rather the scholarly study of music. At the SACM she will be teaching Western classical music history, focusing on 19th and 20th century works.
"I always thought I'd like to work abroad," she says. "I saw an advert for this position in a German newspaper, and thought it the perfect opportunity. South Africa is wonderful."
"UCT has been so accommodating and helpful; especially the Research Office. Here, there are institutional offices where I can get help immediately."
Sandmeier studied music and modern English literature at Trinity College Dublin, Ireland. She completed her PhD in musicology there, too. From 1999 to 2008 she worked as a lecturer in musicology at the University of Münster, Germany, where she was awarded the Habilitation, the highest academic qualification their scholars can achieve. In 2009 and 2010 she was deputy professor of musicology at the universities of Potsdam and Münster, both in Germany.
She has published widely on English music, opera and oratorio, as well as on the music of the 15th, 19th and early 20th centuries. Her current research interest centres on oratorio in Germany in the 19th century, specifically the reception of Händel's oratorios and on oratorios about the apocalypse.
In her spare time she plays violin (baroque, modern) in various ensembles.
---
This work is licensed under a Creative Commons Attribution-NoDerivatives 4.0 International License.
Please view the republishing articles page for more information.
---