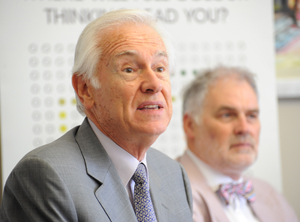 Pioneering centre: The Allan Gray Centre for Values-based Leadership was launched at the GSB recently. In picture are Allan Gray (left) and Prof Walter Baets, director of the GSB.
The Graduate School of Business (GSB), in association with the Allan Gray Orbis Foundation, has established a Centre for Values-based Leadership that is committed to exploring new ways of doing business, based on purpose, sustainability and responsible practices.
The centre is the first of its kind in South Africa and will raise issues of sustainability and values-based leadership to priority status in the country and beyond. It has been established through sponsorship from Allan WB Gray, founder of Allan Gray Limited and the Allan Gray Orbis Foundation.
The Allan Gray Centre for Values-based Leadership will follow an agenda formed by both the GSB and the foundation. The goal will be to explore new ways of doing business that will be good for business, good for society and good for the environment.
"Values-based leadership is an exploration into creating dignity and belonging and initiative through business," said Professor Walter Baets, GSB director, at the launch.
"It is a fundamental questioning of the principles by which the world has been doing business. We've seen that how we have been doing business is questionable and we should bring in a new way of thinking. I believe values-based leadership is a fundamental building block of new business and economic practices."
The centre builds on the long relationship between the GSB and the Allan Gray Orbis Foundation.
"Not many business schools have a values-based leadership faculty," Baets said. "It shows that Allan Gray is innovative and visionary, and that business supports the GSB's vision and mission.
The Allan Gray Orbis Foundation is an organisation that was established in 2005 as an education and development catalyst to assist a generation of high growth entrepreneurial change agents to bring about job creation in Southern Africa.
The partnership is by no means standard because the relationship will be more closely knit than traditional partnerships of a similar sort between sponsors and business schools.
"In the case of this centre, the foundation will be at the forefront of the research agenda and they will help select the faculty members. It is a mutual responsibility and endeavour," said Baets.
But the relationship between the two will mean more than just research; for students at the business school there will be internships and mentorship programmes available through the foundation.
---
This work is licensed under a Creative Commons Attribution-NoDerivatives 4.0 International License.
Please view the republishing articles page for more information.
---