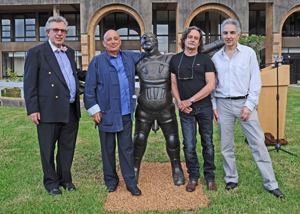 Signing off: Dialogue at the Dogwatch has been installed on the new Alma Mater plaza on middle campus. Photographed at the installation were (from left) Registrar Hugh Amoore, alumnus and donor Charles Diamond, sculptor David Brown, and VC Dr Max Price.
Acclaimed sculptor David Brown's work , Dialogue at the Dogwatch, is the new permanent resident on the Alma Mater plaza between the Kramer Law Building and the new Student Administration Building on middle campus.
A gift from UCT alumnus Charles Diamond, Dialogue at the Dogwatch, sculpted in 1994 and 15 months in the making, is a major work Brown's oeuvre. With a footprint of about 100m2, the bronze, copper, brass, Cor-ten (weathering steel) and stainless steel piece was originally commissioned by Diamond, a collector of sculpture, for his country estate in the UK. Diamond was president of the SRC in 1966/67 and graduated from UCT with an MA in economics. He became a successful global economist.
Speaking at an event in April to celebrate the installation of the sculpture, registrar Hugh Amoore said that although UCT didn't have an art museum, its growing art collection has allowed for the creation of "living museums" in the works on display across the faculties.
"This growth is largely a result of the tradition of alumni giving to their alma mater," said Amoore.
A number of works by Brown, also a UCT alumnus, can be found around the campus, including sculptures in the chemical engineering building, the Hoerikwaggo Building, the Robert Leslie Building, and in the Irma Stern Museum gardens, where a maquette of Dialogue at the Dogwatch is installed.
Diamond described "the dogwatch" as a nautical term for the hours between late afternoon and night, when fading light can play tricks on the eyes.
"It's important for art to ask questions and challenge perceptions," said Diamond. "It's difficult for me to explain the piece, so when people ask me what it is, I usually just say, 'it's about seven and a half tonnes'."
A graduate of the Michaelis School of Fine Art, Brown's work has won several awards and is represented in both South African and foreign collections.
"Students who pass here might not always become art fans," said Diamond, "but they will be aware of the dogwatch hours - and maybe even what it means."
---
This work is licensed under a Creative Commons Attribution-NoDerivatives 4.0 International License.
Please view the republishing articles page for more information.
---