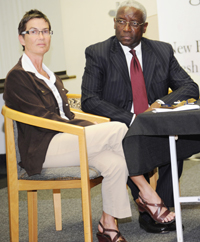 Constitutional matters: Prof PJ Schwikkard, Dean of the Faculty of Law, and Chief Justice Sandile Ngcobo at the launch of the Constitution Week.
The UCT Law Faculty's Constitution Week could not have asked for a better stamp of approval than that of Chief Justice Sandile Ngcobo.
Delivering the keynote address at the launch of the four-day series on 4 April, Ngcobo noted that events like Conweek ensure that the foundation of the constitutional jurisprudence, which is at its formative stage in this country, is sound and solid.
"Constitution Week provides a forum for a dialogue that brings expertise on constitutional law to reflect and engage on our developing constitutional jurisprudence," he said.
Constitution Week, the second of its kind at UCT, is the brainchild of the Democratic Governance and Rights Unit in the Department of Public Law, and draws attention to the Constitution while promoting constructive debate thereon.
There is widespread misunderstanding about the nature of a relationship between the three government branches (the executive, the legislature and the judiciary), said Ngcobo. This is evident in the criticism of the judiciary on judgements perceived to interfere with other branches and causing tension.
"All three branches have one mission in common - to uphold the Constitution."
Ngcobo added that the tension was natural and flowed from the Constitution. He said the focus should be on how to understand and manage this tension in the context of democracy. One way of managing this was through constitutional dialogue, which should be based on trust and good faith.
---
This work is licensed under a Creative Commons Attribution-NoDerivatives 4.0 International License.
Please view the republishing articles page for more information.
---