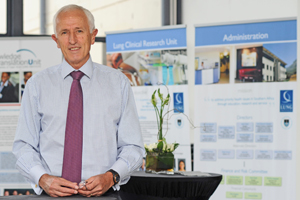 Proud achievements: Prof Eric Bateman, the UCT Lung Institute's founder and head of their Clinical Research Unit.
Ten years ago, UCT took a bold step in establishing the UCT Lung Institute, a custom-built research facility that that forms part of the Faculty of Health Sciences' platform for teaching and learning, but operates as a separate company addressing in research the priority health needs of the community.
That bold move has paid dividends. The institute has been instrumental in changing the way that asthma is monitored and managed worldwide; it has provided innovative training and task-shifting in the management of common lung diseases and HIV/AIDS in Southern Africa; and it has provided gold standard consulting on allergies.
Professor Eric Bateman, the institute's founder and head of the Institute's Lung Clinical Research Unit, said: "We can be justifiably proud of our achievements over the past decade, from pioneering community-based surveys of the burden of lung disease in South Africa, which have informed national and international health policies, to establishing a premier unit for testing new drugs for the treatment of tuberculosis, an urgent global necessity."
He said that the Institute is well-equipped to turn research into practical solutions, and cited the example of the of the Practical Approach to Lung Health in South Africa (PALSA) project, which was initiated by The Lung Institute's Knowledge Translation Unit (KTU) in response to a request from a struggling, doctor-impoverished Free State Department of Health. The question was how to develop the capacity to handle the range of lung and other chronic diseases in a resource-poor setting.
The unit, headed by Drs Beverly Draper and Lara Fairall, sought to increase the capacity of nurses to diagnose and manage respiratory diseases, including TB, by developing guidelines and providing onsite training.
This evolved into a groundbreaking, task-shifting programmes called PALSA-Plus, which consolidated uncomplicated Anti-Retroviral Therapy (ART)-eligible adults to primary health care facilities where appropriately trained nurses could treat them, thus freeing up the dwindling number of doctors in public facilities to concentrate on children and more complex cases. The programmes have since become the norm across most South African provinces, improving TB detection in the Free State by 70% and asthma management by 80%.
To date more than 110 000 copies of the guidelines have been distributed and more than 12 000 primary care nurses trained by some 900 facility trainers taught by the KTU team at the Lung Institute. The work was recently customised and implemented in Malawi and is being adapted for other sub-Saharan African countries.
The institute is a wholly-owned subsidiary of UCT with more than 70 employees, Bateman explained. Their work is financed entirely from grants and contracts for research. The budget has increased twelvefold as the Institute successes have garnered acclaim and accelerated over the years.
The institute is also a valuable research resource, having published more than 350 academic papers, and provides a training platform for many PhD and master's students.
"It has evolved into a national resource for the most modern and comprehensive assessment and treatment of lung diseases," he said.
Bateman concluded by thanking all of the researchers and administrative staff who had contributed to the successful first decade of research and clinical service. "We are looking forward to sharing our achievements in the decades to come."
---
This work is licensed under a Creative Commons Attribution-NoDerivatives 4.0 International License.
Please view the republishing articles page for more information.
---