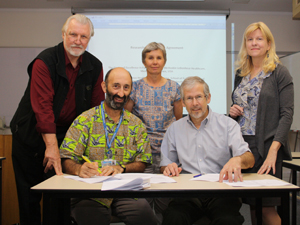 New partners: At the signing of a recent Memorandum of Collaboration between UCT and the US Methodist LeBonheur Healthcare's Centre of Excellence in Faith and Health were (back) Prof Jim Cochrane (UCT), Prof Lucy Gilson (UCT), Dr Teresa Cutts (US), (front) Prof Leslie London (UCT) and Dr Gary Gunderson (US).
During a four-day launch, the School of Public Health & Family Medicine (SOPH) welcomed a new partnership with the African Religious Health Assets Programme (ARHAP) - to be known as the International Religious Health Assets Programme (IRHAP). This research network works at the interface of religion and public health, to promote sustainable health among poor communities, especially in Africa, and includes a particular focus on the role of religious health assets within health systems.
One group in ARHAP-IRHAP's wider network, the Methodist LeBonheur Healthcare's Centre of Excellence in Faith and Health, based in Memphis in the US, will also be a partner in the new collaboration with SOPH, and was represented at the launch. The launch included the signing of a Memorandum of Collaboration and a seminar on 9 March.
Seminar presenters from Memphis outlined how ARHAP's work in Africa has provided important "learnings from the ground", which have to some extent helped shape an initiative taking place in Memphis - building a trusted health-care delivery system that blends what the hospital knows about disease with what religious communities know about life. Called the Congregational Health Network (CHN), this initiative is a partnership between congregations and faith communities for sharing in the ministry of caring for CHN patients in the community.
The programme is having remarkable effects in health care. In one case, the provision of CHN home-based care-giving services reduced the annual hospital visits of an elderly man suffering from congestive heart failure from six to one. There are ample examples of other positive health outcomes, including significantly reduced mortality rates among CHN patients - and most of the community work is unpaid; it is done for "love, not money".
UCT recognises the tremendous value of ARHAP-IRHAP's work. As noted by Professor Leslie London, head of the School of Public Health and Family Medicine, "It is important not only to recognise that investing in systems outside of hospitals can improve health care outcomes, but to understand how that takes place - through what pathways and mechanisms; because if we understand that, we can potentially extrapolate to other contexts which are very different to Memphis and to the faith-based environments they are working in."
As the collaboration gets off the ground, the School will be supporting engagements between ARHAP-IRHAP, Methodist LeBonheur Healthcare, and its own health policy and systems work that further investigates these complex system dynamics and generates wider lessons for health system development in South Africa and beyond.
---
This work is licensed under a Creative Commons Attribution-NoDerivatives 4.0 International License.
Please view the republishing articles page for more information.
---