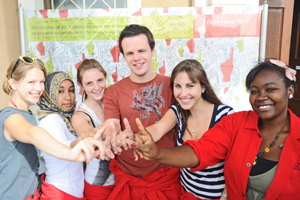 Student support: (From left) SRC members who were tested during the first Things First HIV/AIDS campaign included Kim Senogles, Inshaaf Isaacs, Jessica Price, Sean Darge, Kathleen Taylor, and Vimbai Paraffin.
Students at UCT's Faculty of Health who flocked to the two First Things First HIV testing stations on the campus on 2 March were joined by deputy dean Associate Professor Gonda Perez, who also 'submitted' her finger in support of the awareness drive.
"I do it every year," said Perez. "This is a very important initiative, because we can only battle this problem if we all know what our statuses are. So I hope I'm setting a good example by getting tested myself."
Deputy chair of the Health Sciences Students' Council, Kabelo Musi, also stressed the importance of awareness for medical students.
"We feel that because we are health professionals we are at the forefront of dealing with the HIV pandemic in South Africa," said Musi. "Because of that, we first have to be aware of our own HIV status. Personal experience colours the way you deal with other people, and when you have experience, you are better able to help your patients."
A further incentive for getting tested was the chance to enter a competition. Senior students stood a chance of winning various prizes, and first-year students, who were targeted this year, could win a Toyota Yaris Zen.
"In a perfect world everyone would get tested of their own volition," commented Musi. "But we live in a world where people are afraid, so the opportunity to win a prize may help to persuade them."
The testing facilities were provided by the Desmond Tutu Foundation's mobile HIV testing clinic, the Tutu Tester, partnered by Health for Men, an NGO focused on men's health. The funders of the national campaign for first-year students, launched in January, are Innovative Medicines South Africa (IMSA), who were partnered by the Department of Health, the South African National AIDS Council, the Foundation for Professional Development, Higher Education South Africa and the Higher Education HIV and AIDS programme. The Department of Health aimed to reach close on 35 000 students with this campaign.
---
This work is licensed under a Creative Commons Attribution-NoDerivatives 4.0 International License.
Please view the republishing articles page for more information.
---