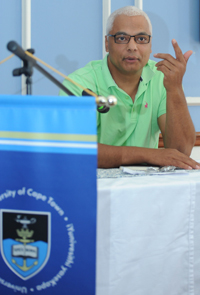 Shuaib Chalklen
UCT alumnus and UN Special Rapporteur on Disability for the Commission for Social Development Shuaib Chalklen delivered a message to the UCT community about the need for civil society to take responsibility for expanding and protecting their rights - especially those pertaining to disability.
Chalklen said that UN conventions such as the Convention on Disability, to which South Africa was a signatory, placed a responsibility on government to follow through with its commitment to expand and protect the rights of people with disabilities.
Chalklen, together with UCT's Disability Services Manager Ms Reinette Popplestone, spoke about the politics of disability recently in the Sir Richard Luyt Room during a lunchtime Transformation Month event. Chaired by the TSO Director, Glenda Wildschut, the discussion was entitled: Then and Now: How accessible is UCT to people with disabilities?
A student in the late 1980s, Chalklen said he would never have been able to address people in the event venue, as at the time the Otto Beit Building was not accessible to wheelchair-users.
He recalled that during his studies he had to rely heavily on friends and fellow students to gain access to many venues on campus. He stopped attending his psychology lectures in the New Science Lecture Theatre because of the difficulty he had in gaining access. "I just gave up [going to lectures], although I continued attending study groups and tutorials."
He said in the 1980s UCT had followed the "deficit model" of disability, which viewed disability as an all-encompassing personal deficit or tragedy that dominates all aspects of an individual's life.
The deficit or 'tragedy' model of disability is one of the greatest obstacles to disability rights, as it can make even people with disabilities internalise its precepts, Chalklen claimed.
Chalklen paid tribute to the pioneering work of the late Kathy Jagoe, who was Director of the then-Disability Unit, which was established in 1988. "She did amazing work and she did it despite great difficulties, trying to bring awareness to the campus community about disability."
He believes that despite UCT's role in the struggle against apartheid there was resistance to other forms of change, and that Jagoe had to overcome huge resistance in her drive to create a barrier-free campus for all.
Chalklen said one just has to look at human rights movements across the world: resistance is symptomatic of change. "Whenever there is change, one can expect the opposite push!"
Popplestone acknowledged the progress made by her predecessors, Jagoe and Mike Watermeyer, in advancing the rights of the disabled at UCT.
In closing, Wildschut said there was a need to have more of these kinds of conversations about disability, and that the TSO would ensure this debate maintained its momentum.
---
This work is licensed under a Creative Commons Attribution-NoDerivatives 4.0 International License.
Please view the republishing articles page for more information.
---