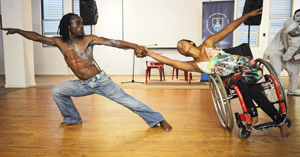 Duet: The Remix Dance Company's Andile Vellem and Nadine McKenzie performed during Transformation Month.
A UCT audience of staff and students were spellbound by an emotionally charged performance by Remix Dance Company at the African Studies Gallery recently.
The performance by the renowned Cape Town-based integrated contemporary dance company was preceded by head of the UCT School of Dance Gerard Samuels' talk about integrated dance in South Africa, and was followed by Remix choreographer Malcolm Black's address.
Manager of Disability Services Reinette Popplestone chaired the panel discussion with Samuel and Black.
The panellists discussed the origins of integrated dance and asked the audience to reflect on their own experience of watching the extract from a full-length work, Offkey, choreographed by Black and performed by Owen Manamela, Mpotseng Shupin, Andile Vellem and Nadine McKenzie.
Remix, whose company includes both abled-bodied dancers and those with disabilities, have been critically acclaimed for their technical quality and ability to convey emotion, as well as for their ability to make audiences transcend the notion of dance being the sole domain of the able-bodied.
In 2001 Samuel established a youth-based integrated dance company in Durban called LeftfeetFIRST Dance Theatre, which continued its mission of inclusion and integration under the umbrella of the professional contemporary dance company Flatfoot Dance.
Contextualising the discussion about the integration of the disabled in the performing arts and dance in South Africa, Samuel said there was an historic absence of the disabled as a community of artists, especially in mainstream theatre spaces.
After the performance Black discussed his thoughts about integrated dance with the audience. In his introduction he suggested that at its core, segregation was perhaps part of human nature and was adopted as a strategy to preserve people's identities, cultures and wealth. However, he pointed out that while segregation leads to less understanding of others, the term 'integration' can be viewed with a degree of scepticism.
"Does integration reduce the unique to a common denominator, or is it possible that integration can preserve uniqueness and nurture a bigger understanding and acceptance of what we know?" Black asked.
Samuel said it was important to unbundle the foregrounded identity of this new group of dancers with disabilities, who offer particular limitations and strengths - both of which are valuable to the creative artist and teacher-choreographer.
"In other words, the wheelchair is seen as a choreographic device and not a hindrance. A re-focus on the humanity of each individual might allow us to reconceptualise dancing bodies that are not tall, with straight blond hair, and/or skinny, to re-look and 're-search' other ways of moving that are free from the obsession to master some 'technique' goal that seems to define the body as a machine and not as a vessel for the soul."
---
This work is licensed under a Creative Commons Attribution-NoDerivatives 4.0 International License.
Please view the republishing articles page for more information.
---